Johnathan Scott Explains His "No BS" Style Of Co-Parenting
Scott is in a relationship with actor and mom of two, Zooey Deschanel.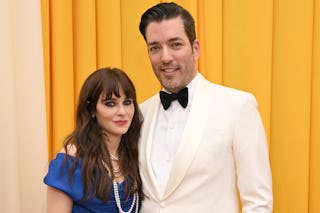 Michael Kovac/Getty Images Entertainment/Getty Images
Property Brothers star Jonathan Scott revealed that there is one special rule he follows that he believes is the key to a happy home.
Scott, who has been in a relationship with New Girl actress Zooey Deschanel since 2019 — is part of a blended family with Deschanel's children — 6-year-old son Charlie and 7-year-old daughter Elsie — who she shares with her ex-husband, Jacob Pechenik.
When speaking with Entertainment Tonight, Scott, 45, confessed that while not always easy, one of the best ways he helps navigate coparents is having a "no BS" policy — something he has practiced with his brother, Drew Scott, for years.
"It honestly just stems from what Drew and I created. We have a 'no BS' policy. If there's ever anything that's troubling us, we get it out before it turns into something bigger than it needs," Scott explained.
"Zooey also has the greatest conflict resolution skills of anyone I've ever known. She's incredible. Our communication keeps everything together."
When speaking to co-parenting, Scott commended Pechenik praising his work on their blended family, too.
"The kids' dad is a great dad. We have an amazing relationship there as well," the home renovator said.
"I love it when the kids draw photos. They draw Mommy and Daddy and Jonathan. It's really sweet."
Earlier this year, Scott opened up to Today about how it felt to have his dream of being a dad come true.
"I always knew I would be a great dad — former clown, magician, I can build stuff — and it's been incredible," Scott said, adding that he "enjoys every minute" of being a bonus dad.
"You see your life transform, your priorities become your kids, and when they have a performance that they're doing at school, or working on some of their homework, or whatever it might be, it's a joy."
Scott and Deschanel have been together since 2019 when they met on the set of Carpool Karaoke and have essentially been together ever since. Scott says he "doesn't remember a time" when he wasn't around.
"The first time I realized [we had a connection] ... our youngest came back from school with a picture that he had drawn, and in the picture, he has Mommy and Daddy and Jonathan and his sister and our puppies. He had drawn this whole picture. This is his happy family," Scott recalled.
"I think that was when I was like, that's pretty sweet, because the way we think of it is, he has the benefit of a 'bonus dad.' How cool is that? You have more people that love you."