Kelly Clarkson Texted Her Ex-Husband Before The Release Of Her New Divorce Album
"We did have a little text exchange about it," she said.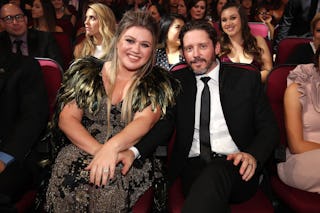 Chris Polk/AMA2017/Getty Images Entertainment/Getty Images
Kelly Clarkson recently revealed that she checked in with her ex-husband before the release of her latest album, Chemistry, which is said to be an epic "divorce" anthem.
Clarkson admitted on TODAY that she reached out to her ex Brandon Blackstock to discuss the new album, to clarify some public speculation and give him some details of what the songs are really about.
"We did have a little text exchange about it," she told hosts Hoda Kotb and Carson Daly.
"I don't even remember why or how it happened, but I was like, 'Hey, I didn't just diminish us down to one [thing],'" she explained. "You know what I'm saying? It's all in there, the ride. The beauty is in there, as well. Now there's a lot of pain, but that's what happens for all of us."
When Kotb asked the "Never Again" singer if she ever thinks about Blackstock listening to the album and what he would think about the songs, Clarkson replied, "No. I don't know if he'd care either way."
Clarkson filed for divorce from Blackstock in June 2020 after seven years of marriage, and the two officially split in March 2022. The former couple share daughter River Rose, 9, and son Remington Alexander, 7.
As for Chemistry, Clarkson told Kotb and Daly that River and Remington were always at the forefront of her mind while writing and producing the album.
"It's very personal. And I've always released personal music — I think I'm that kind of writer in general, everybody knows that," she said. "I think when you have kids — you both have kids, too — you kind of debate, 'What am I going to do here?' So I was very selective about the songs I picked for the album."
The talk show host and The Voice coach says she lays it all out on the new album, including the demise of her marriage, showcasing "the arc of an entire relationship."
"It's called Chemistry… because I was trying to find a word that really described the whole thing cause, I didn't want everybody to think I was just coming out with just like, 'I'm angry, I'm sad, just one or two emotions, you know?" she said.
"And a whole relationship shouldn't be just brought down to one thing. So there's the good, the bad and the ugly kind of thing going on in it," she added.
Clarkson has been open and honest about the divorce, even talking about the one-time sum of $1.3 million and $115,00 per month in spousal support she has to pay Blackstock until January 2024.
During the Today interview, Kotb also broke down some of the common themes on Chemistry.
"When a lot of relationships end there are lots of things that are fought over, and a lot of times it's money," she said.
Clarkson replied with an affirming laugh and said, "Heyyyy..."
The Today host then referred to the song "Red Flag Collector," where the former American Idol contestant seemingly calls out some of her ex-husband's past behavior, when she sings: "Sure, you can have the towels. You can take my money. Drag my name 'round town. I don't mind, I changed it anyway."
The lyrics continue, "As you run your mouth, puff your chest. Play cowboy in the wild, wild west. I don't mind, you know best. Keep on ridin' 'til you can't say us," which seems to be a direct reference to the former couple's dispute over Clarkson's Montana ranch.
Chemistry is out now.