Kelly Clarkson Wins $10.4 Million Montana Ranch In Divorce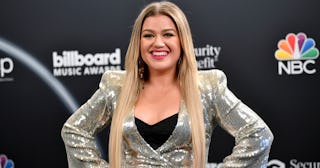 (Amy Sussman via Getty Images Entertainment)
The judge in Clarkson's divorce case ruled that the couple's Montana Vintage Valley Ranch is not marital property — and belongs to Kelly
Kelly Clarkson's divorce from estranged husband Brandon Blackstock has been tumultuous, to say the least. The latest installment in the divorce saga seems to be complicated for the pair, as Blackstock believes the sprawling Montana ranch is marital property, meaning it is just as much his as it is Clarkson's. A judge was not of the same mind, and declared that the ranch is soley Clarkson's — after all, she is the sole titleholder of the estate.
It gets trickier and weirder, though. Blackstock is fully living at this ranch and LARPing as some yesteryear cowboy. He had been using the ranch as his "residence and business" and attempted to use this positioning to keep some sort of control over the $10.4 million estate. There hasn't been any word of whether or not Blackstock has left the ranch, although whispers suggest that he is not keen on leaving.
This is just the latest obstacle Clarkson has faced in the midst of her divorce
Clarkson first filed for divorce in June 2020 after seven years of marriage, citing irreconcilable differences. She was open about the difficulties of navigating a split so publicly, especially with their two children in the mix. "You can ask anyone who's gone through a divorce, I don't think anyone expects it," she told Hoda Kotb on the Today show. "You see yourself growing old with someone and then life has a different path. It's so hard on everyone, and you know me, I'm really open. I try to be open and share … We all go through things. But at the same time, we have four kids total with each other. That's a lot of hearts involved, and you just have to be really careful. … We're in the public eye so that's hard too, to try and be truthful but also keep your privacy."
When divorce proceedings first started, the singer and daytime talk show host was ordered to send her soon-to-be-ex nearly $200,000 a month in spousal support. In August, a judge declared that the couple's prenup still stood, and she had her last name legally reverted to Clarkson — but the ownership of the ranch was still somewhat up in the air.
"This isn't happiness, and we both deserve better. That line so hit home for me: I don't want this for everyone in this scenario right now," Clarkson told author Glennon Doyle on an episode of her talk show as news of her divorce hit. Here's hoping that Clarkson is almost done with all this legal nonsense and she and Blackstock can move forward with their lives and co-parenting.