The 2023 Lifetime Christmas Movie Schedule Just Dropped — & It Includes A Thriller!
Lifetime and LMN are debuting 13 new holiday movies this year featuring stars like Tia Mowry and Teri Hatcher.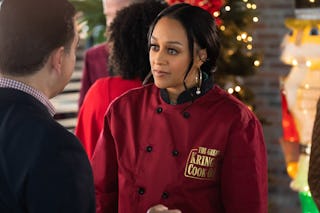 Lifetime
It's beginning to look a lot like Christmas movie season! Lifetime is the latest channel to unveil its lineup of new holiday movies for the 2023 season, and the cable channel is all about the nostalgia this year. From films featuring stars like Tia Mowry, Degrassi: The Next Generation's Jake Epstein, and Teri Hatcher to an '80s team-up of epic proportions appropriately entitled Ladies of the '80s: A Divas Christmas, Lifetime is serving up festive tales featuring plenty of familiar faces.
This year's lineup includes 12 new Christmas movies in total (down sharply from 2022's impressive count of 26). Additionally, Lifetime's sister channel, LMN, is entering the holiday game with a Christmas thriller entitled Silent Night, Fatal Night, bringing the overall total of new holiday films to 13. The "It's a Wonderful Lifetime" event officially begins Saturday, Nov. 18, with the premiere of Christmas Plus One starring Emily Alatalo and Corey Sevier, and continues through Dec. 23.
If that's not enough holiday movie goodness for you, Lifetime will include 60 holiday titles on the Lifetime website and app, as well as through its video-on-demand (VOD) partners. Lifetime Movie Club subscribers can also watch 40 commercial-free Christmas movies beginning Oct. 20.
Check out Lifetime's full slate of 2023 holiday movies below.
Lifetime's Complete It's A Wonderful Lifetime 2023 Movie Lineup
Saturday, Nov. 18: Christmas Plus One
Stars: Emily Alatalo and Corey Sevier
Synopsis: One year after sisters Cara and Amy make a pact to find their soulmates by next Christmas, Amy is getting ready to walk down the aisle when Cara loses the number of the potential man of her dreams. Now she's facing a time crunch as she teams up with a magazine writer to track her "soulmate" down in time for her sister's wedding.
Sunday, Nov. 19: Planes, Trains, and Christmas Trees 
Stars: Kathryn Davis and Olivier Renaud
Synopsis: After getting stranded at the airport, an event planner and a sports agent team up to make their own way home. Instead, they end up stuck in the quaint town of Redwood, Ohio, where they rediscover the magic of Christmas.
Saturday, Nov. 25: Christmas at the Chalet
Stars: Teri Hatcher and William DeVry
Synopsis: Former TV host Lexi decides to work in the chalet where her son, ex-husband, and his new girlfriend are staying over the holidays in hopes of avoiding the awkwardness of them all staying in close quarters — and documents the experience for her social media followers.
Sunday, Nov. 26: Laughing All the Way
Stars: Paniz Zade and Jake Epstein
Synopsis: Aspiring comedian Aubri Wilson is put in charge of the Christmas variety show, and lands her dream headliner in the form of Hollywood star Mike Baxter.
Saturday, Dec. 2: Ladies of the '80s: A Divas Christmas
Stars: Loni Anderson, Morgan Fairchild, Linda Gray, Donna Mills, and Nicollette Sheridan
Synopsis: Five '80s superstars reunite to shoot the Christmas-themed final episode of their long-running soap opera. (In addition to featuring five real-life mega stars of the '80s, the movie also includes a new original song from pop star Tiffany.)
Sunday, Dec. 3: Mistletoe Match
Stars: Elena Juatco and Ryan Bruce
Synopsis: Reporter Olivia Hayes goes undercover at the Secret Santa for Singles to give her readers a cynical inside look at the event, only to meet an equally skeptical single dad she has instant chemistry with.
Thursday, Dec. 7: Silent Night, Fatal Night *LMN Premiere
Stars: Alex Camacho and Matthew Pohlkamp
Synopsis: LMN puts its own spin on the made-for-TV Christmas movie with this twisted thriller about a bestselling mystery writer whose manager takes her prisoner during the holidays when she reveals she's ending her long-running detective series.
Saturday, Dec. 9: A Cowboy Christmas Romance
Stars: Jana Kramer and Adam Senn
Synopsis: Written by Grey's Anatomy star Sarah Drew, Mistletoe Match follows real estate "closer" Lexie as she returns to her hometown of Tubac, Arizona, to convince a rancher to sell his land one week before Christmas.
Sunday, Dec. 10: Yes, Chef! Christmas
Stars: Tia Mowry, Buddy Valastro, and Luke Humphrey
Synopsis: Culinary school instructor Alicia is invited to compete in the annual Kringle Cook Off, where she learns a family secret that could help her become the head chef she's always dreamed she could be.
Saturday, Dec. 16: The Holiday Proposal Plan
Stars: Tatyana Ali and Jesse Kove
Synopsis: A travel columnist and her ex-boyfriend team up to help encourage their mutual friends to get engaged over the holiday season, but soon find themselves rekindling old feelings in the process.
Saturday, Dec. 16: A Christmas Intern
Stars: Jackée Harry, Ciarra Carter, and Vivica A. Fox
Synopsis: When Cecilia realizes retirement isn't for her, she decides to reconnect with her daughter, Alexis, during the holidays by joining her startup, "Cyber Santa," as an intern.
Sunday, Dec. 17: Merry Magic Christmas
Stars: Patricia Isaac and Andrew Dunbar
Synopsis: When financial advisor Beth begins seeing the angel number 624 everywhere, she ends up working at a children's theatre with a man whose financial inexperience could jeopardize the program.
Saturday, Dec. 23: Mom's Christmas Boyfriend
Stars: Jeananne Goossen and Zach Smadu
Synopsis: A 10-year-old named Emily wins a writing contest when she shares that all she wants for Christmas is for her mom to find her perfect match.