kiss the girl (with consent)
The Live-Action 'Little Mermaid' Song Lyrics Will Be Updated To Include Consent & Equality
The Disney film will also have four new original songs.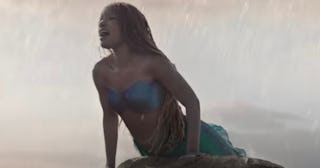 Disney
The new live-action version of The Little Mermaid will hit theaters on May 26, 2023, and it cannot come soon enough for Disney fans. The film — starring Halle Bailey as Ariel — will be the 20th live-action remake to come from Disney and the most controversial.
Soon after Halle's casting was announced, the young star was met with racial backlash online with some social media users even using the then-viral hashtag #NotMyAriel, promising to boycott the film upon its release.
Guess some people got upset that a made up species that doesn't even exist wasn't going to be white. The horror!
Those same people that can't stand a black mermaid might have a bone to pick with the film's composer Alan Menken as well. In 2021, Menken confirmed to Disney's For Scores podcast that the live-action film will feature four brand-new, original songs — one for Price Eric and Ariel, one for King Triton, and one for Scuttle. He also noted that the songs would be a "blend" of his and Lin-Manuel Miranda's musical styles.
Manuel-Miranda is one the film's producers.
In March 2023, Menken spoke to Vanity Fair, revealing some more details about the new songs, noting that Prince Eric's new song would be titled "Wild Uncharted Waters" and Scuttle's is named "Scuttlebutt."
He also revealed that Ariel's new song will be performed while she has her legs on land and doesn't have a voice, with the princess "singing her thoughts about all the firsts she is noticing for the first time."
Menken also went on to share that there will be some minor lyric change ups in a few of the songs from the original film.
"Kiss the Girl" will have some lyric changes in order to be more progressive and inclusive.
"There are some lyric changes in 'Kiss the Girl' because people have gotten very sensitive about the idea that [Prince Eric] would, in any way, force himself on [Ariel]," Menken told Vanity Fair.
Some of the lyrics in "Kiss the Girl" could definitely be seen as a bit problematic. Sebastian sings while encouraging Prince Eric to give Ariel a kiss as they sit in a rowboat together. "Yes, you want her / Look at her, you know you do / Possible she wants you too / There is one way to ask her / It don't take a word / Not a single word / Go on and kiss the girl," the crab sings.
Some may interpret these lyrics suggest Prince Eric doesn't need Ariel's verbal consent to kiss her, or that there's no way to ask a woman to kiss except by doing it.
Menken also shared that "Poor Unfortunate Souls" will have some rewrites.
"We have some revisions in 'Poor Unfortunate Souls' regarding lines that might make young girls somehow feel that they shouldn't speak out of turn," continued Menken. "Even though Ursula is clearly manipulating Ariel to give up her voice."
In the song, Ursula tries to convince Ariel that having a voice doesn't matter, explaining that human women are expected to be quiet, submissive and "withdrawn" to find love.
"The men up there don't like a lot of blabber / They think a girl who gossips is a bore! / Yet on land it's much preferred for ladies not to say a word / And after all dear, what is idle babble for? / Come on, they're not all that impressed with conversation / True gentlemen avoid it when they can / But they dote and swoon and fawn / On a lady who's withdrawn / It's she who holds her tongue who get's a man," the lyrics read.
One would think that some subtle changes to 30+-year-old outdated song lyrics is not that big of a deal, or even a sign of progress! However, some are displeased with the progressive change to the original film.
"Woke little mermaid will fail at the box office and no surprise," one Facebook user commented about the announcement.
"This generation is so sensitive, I swear," another wrote.
While some may be in a tizzy over the "wokeness" of it all, Bailey said that recording both new and original music for the movie was her "number one" exciting experience from filming. Her singing voice also stunned her co-stars Javier Bardem and Melissa McCarthy, with Javier Bardem — who plays King Triton — calling Halle's vocal abilities "out of this world."
Melissa McCarthy —who plays Ursula — revealed that Halle's singing was so amazing that she brought people on set to tears.
Sounds like the movie will be filled with talent — and thoughtfulness.