'Little Mermaid' Star Halle Bailey Tears Up As She Unveils New Look-Alike Ariel Doll
The 22-year-old songstress will star in the live-action remake of the classic Disney film.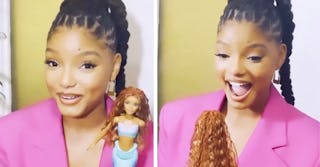 Instagram / Halle Bailey
We may receive a portion of sales if you purchase a product through a link in this article.
In news that is sure to make your heart burst, singer and actor Halle Bailey revealed the first-look at the new Little Mermaid doll which just so happens to be an exact look-alike of her face.
Bailey — who will star in a live-action remake of the classic Disney film later this year — posted an adorable video to her Instagram and Twitter to show fans just how similar she and the doll look.
"This is the new Little Mermaid doll!" she exclaimed before adding, "This means so much to me and to have one that looks like me, that's my favorite Disney character, is very surreal."
The actress captioned the video, "omg 💗 the little girl in me is pinching herself right now ..i have my own Little Mermaid Ariel doll !!! I can't believe how much she captures my version of this iconic character 💕 brb gonna go cry now …"
Before she gives the big reveal, Bailey attempts to hold back tears.
"I am gonna cry," she says. "I am literally choking up because this means so much to me."
The music artist then began to point out all the similarities between she and the doll including a mole on her face and the mermaid's hair.
"I'm just stunned, so I don't quite know what to do with it but I'm going to steal this and take it home and hide it forever," she said with a laugh.
Bailey's comment section was flooded with fans who could not wait to get their hands on the new doll. "Keep y'all kids out the store bc I'm finna push them out the way to get one," one user joked.
Chole Bailey, Halle's sister and other half of music duo, Chloe x Halle, commented, "IM BUYING 100 OF THEM!!!"
West Side Story actor, Rachel Zeiger, chimed in with her support for Bailey's milestone moment. "baby girl! what dreams are made of," she wrote.
The news of the new Ariel doll make in Bailey's likeness comes on the heels of online criticism that the character of Ariel, a mermaid, was going to be portrayed by a Black actor.
Bailey previously opened up about her feelings on the feedback and felt "pressure" to do the character justice.
In an interview with E! News at the D23 Expo, the singer said, "I'm so excited about this film. You know being here today is so surreal. I'm just a fan of all of the other projects and the fact that I get to be a part of something like this. It's amazing."
"I definitely think that because I love this movie so much, and I've treasured it since I was a little girl, I did put a bit of pressure on myself," she shared. "Just because I want to deliver all of the feels that I saw when I was a little girl."
The Little Mermaid premieres in theaters on May 26, 2023.