It's Time To Emotionally Prepare For 'Love Is Blind: After The Altar' Season 4
Grab your couch pants because Netflix dropped the premiere date for the 'After The Altar' special and Season 5.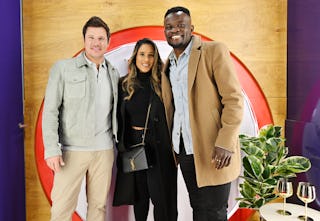 Roy Rochlin/Getty Images Entertainment/Getty Images
While you've been going about your life for the last few months, did you know that the Season 4 cast of Love Is Blind have been struggling to keep it together as they navigate life after the pods? And now we'll get to check in on them in three new After the Altar episodes that are dropping on September 1, according to Netflix.
The three, 40-minute episodes will follow various cast members and their romantic entanglements and everyone will get to see whose marriages are going great and who is single and ready to mingle again a year after the proposals.
The last time we saw this love-crazy crowd was during the "live" reunion special, which was kind of a bust all the way around.
In the one-minute trailer dropped on Tuesday morning, we see the gang is back together — and playing a game of flag football. But the fun and games soon ends as we re-enter the world of dating drama, strained marriages, and broken promises.
And yes, it looks like there are plenty of golden goblets.
From what we can see, it looks like the MVP couple of the season, Brett and Tiffany, are still going strong. And a quick look at Chelsea and Kwame reveals that they have had hard times but are surviving and growing.
"I'm so proud of how far we've come this year," Chelsea says in the trailer, holding back tears.
And the late-but-great couple of Bliss and Zack seems to be getting stronger and stronger after a bit of a rough start.
"He's literally my best friend," Bliss says. "Our love story is just getting started."
Meanwhile, Jackie and Marshall, who totally did not get married, are still trying to find some peace, especially since it seems like Jackie is dating fellow pod-person Josh, who is whatever the opposite of a fan favorite is.
At the same time, Paul and Micah, who also didn't end up tying the knot, might be dealing with some lingering feelings and regrets. Interesting!
And this isn't even the only Love is Blind news for the day! Netflix also announced Season 5 is dropping on September 22, just in time for cozy blanket/couch slug season! And this time, the pods will be in Houston, Texas, where it will wreck havoc on an entirely new cast of characters.