Netflix Just Announced The Love Is Blind Season 5 Release Date — & It's Only A Month Away
New episodes will air every Friday for four weeks.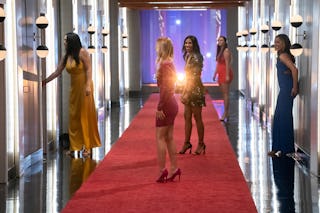 Monty Brinton/Netflix © 2023
Listen, there are choices you make that you're proud of in life, and then there are just... choices. Falling into the latter camp? Watching Love Is Blind every season because, damn it, it's our favorite train wreck on TV. So, it's with next to no shame that we happily head back to the pods to watch another round of romantic hopefuls in Love Is Blind Season 5 — especially since the just-released teaser plays up at least one deep connection.
While Season 4 had quite a few major hiccups (we're looking at you, *live* finale), it did result in some pretty great couples: Bliss Poureetezadi and Zack Goytowski, Chelsea Griffin and Kwame Appiah, and Tiffany Pennywell and Brett Brown. So, who knows? Maybe this next season will result in even more meaningful connections. Or not... but either way, we're invested at this point.
Is there a Love Is Blind Season 5 trailer?
So far, there's only a teaser trailer, which shows one couple seemingly hitting it off.
Following a rough few months of allegations that the Love Is Blind set is toxic from former cast members, the series seems to be leaning into vulnerability this season. The teaser trailer touts going "beyond the surface," and hints that "sometimes finding the one also means finding yourself."
When will the new season premiere?
This just in: On Tuesday, Aug. 22, Netflix announced Season 5 will start streaming exactly one month from their announcement — Sept. 22. According to Deadline, episodes will drop weekly through Oct. 13 in the following cadence:
Week 1: Episodes 1-4 || Friday, Sept. 22
Week 2: Episodes 5-7 || Friday, Sept. 29
Week 3: Episodes 8-9 || Friday, Oct. 6
Week 4: Episode 10 (weddings) || Friday, Oct. 13
Where does this season take place?
If you've been a fan of LIB from the beginning, you know that each season is filmed in a different city. Season 1 was filmed in Atlanta, Georgia; Season 2 in Chicago, Illinois; Season 3 in Dallas, Texas; and Season 4 in Seattle, Washington. Netflix hasn't yet announced the location for Season 5.
However, Kinetic Content Casting, the casting production company for the show, may have narrowed it down a bit for fans. In November 2022, they announced on Instagram that they were seeking singles in Charlotte, North Carolina, for the next season of Love Is Blind. Then, in March 2023, they posted again, this time looking for singles in Washington, D.C., Minneapolis/St. Paul, Minnesota, and Denver, Colorado. So, it's likely the new season will be set in one of those cities.
Who's in the Love Is Blind Season 5 cast?
With the exception of the two hopefuls from the trailer, the latest crop of contestants hasn't been revealed. Now that Netflix has started teasing the new season, though, it shouldn't be long before we see who's officially heading into the pods.
Does the show really work?
To date, only seven out of 20 engaged couples remain together: the three couples from Season 4 mentioned above; Colleen Reed and Matt Bolton, and Alexa Alfia and Brennon Lemieux from Season 3; Amber Pike and Matt Barnett, and Lauren and Cameron Hamilton from Season 1. That's a 35% success rate, which many people wouldn't consider wildly impressive.
But if you feel like at least one true love story coming out of the series would make it a success, then boom — done.
This article was originally published on