Mattel Announced That Barney Is Back & The Internet's Response Is Already Hilarious
I love you, you love me, what did we do to deserve this?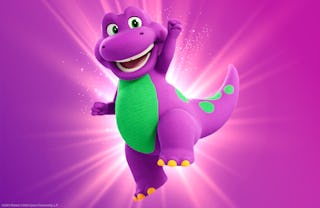 Mattel
Have you missed Barney, the lovable purple dinosaur? No matter how you answered that question, you should know that he's coming back. And people have BIG feelings about it.
On Monday, Mattel announced that Barney 2.0 will be launching worldwide in the coming months. The prehistoric reboot will involve television, film, and YouTube content, as well as music and a full range of kids' products including toys, books, clothing, and more.
Clothing and accessories for adult fans will also be available, for the original Barney freaks from the 90s.
"Barney's message of love and kindness has stood the test of time," said Josh Silverman, Chief Franchise Officer and Global Head of Consumer Products at Mattel in a press release. "We will tap into the nostalgia of the generations who grew up with Barney, now parents themselves, and introduce the iconic purple dinosaur to a new generation of kids and families around the world across content, products, and experiences."
The relaunch will kick off with a brand-new animated series, set to debut globally in 2024.
"In creating the new series, it was important to us that we properly reflect the world that kids today live in so that the series can deliver meaningful lessons about navigating it," said Fred Soulie, SVP and General Manager of Mattel Television. "With our modern take on Barney, we hope to inspire the next generation to listen, care, and dream big. We think that parents, many of whom will fondly remember the original Barney from their own childhoods, will love the show, too."
Barney & Friends originally aired on PBS from 1992 to 2010. CNN reports that it's not yet clear if Barney will yet again air on PBS, but that the company has "confirmed streaming and broadcast partners that we'll be announcing later in the year."
This relaunch follows the successful relaunches of other nostalgic franchises owned by the company, including Monster High and Masters of the Universe.
Everyone's reacting to the news of Barney's return, from the emotions that it's digging up from the 90s to the new updated digital look of the world's most notable purple dino.
First and foremost, there was some speculation that he's had some work done to stay youthful.
"Bareny got the buccal fat removal," one person noted. Suspicious!
And of course, conservatives reacted to the announcement with fears that the purple dinosaur, who has always been all about the values friendship, love, and kindness, will be "woke."
More than a few people were upset that Barney looked different at all from the 90s person-in-a-costume.
And one observant parent made an important point: No matter what you think about the Barney reboot, it's a better idea than the completely nonsensical Cailou reboot.
Welcome back, Barney. May you bring delight to a whole new generation of children and cringe to a whole new generation of parents.