You Have To Hear Michelle Williams Impersonate Justin Timberlake While Reading Britney Spears' Memoir
I did not have this on my bingo card.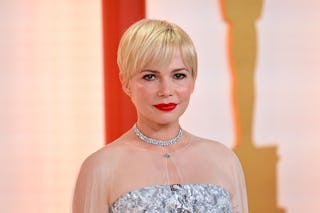 ANGELA WEISS/AFP/Getty Images
We may receive a portion of sales if you purchase a product through a link in this article.
Please file this under: things you didn't know you need, but you absolutely needed them. Many of us are speed-reading Britney Spears' memoir The Woman In Me, which came out this week. Spears opened up big time in the book, sharing, among other bombshells, she had an abortion because Justin Timberlake wasn't ready to be a father.
Millions of fans are also learning that the audiobook is read by A-list actor Michelle Williams, who does a completely killer job handling the assignment. In fact, snippets of the book are appearing online featuring the choicest moments, the best of which is — wait for it — Michelle Williams reading Britney Spears' hilarious retelling of Justin Timberlake embarrassing himself in front of R&B star Ginuwine.
"One day, J and I were in New York, going to parts of town I had never been to before. Walking our way was a guy with a huge, blinged-out medallion — he was flanked by two giant security guards. J got all excited and said so loud, 'Oh yeah, fo' shiz, fo' shiz. Ginuwine, what's up, my homie?'"
In Spears' retelling, after Ginuwine walked away, her assistant Felicia Culotta did an impression of Timberlake. "J wasn't even embarrassed," Spears writes. "He just took it and looked at her like, 'Okay, fuck you.'"
But really, you have to listen to Williams turn this exchange into gold.
Not only is this 40-second clip magic, but the comments are, too.
"Michelle Williams finally coming for that Oscar," one person wrote.
"Bout to buy my first audiobook," another wrote.
"Michelle understood the assignment," said another.
"The man is the definition of cringe."
This is not the only amazing celebrity impression Williams takes on in the audiobook. She also does a completely amazing Mariah Carey, when describing the time that Spears met the singing legend in an awards show dressing room.
Michelle Williams truly captures Carey's spirit! It's magic!
Britney's book, The Woman In Me, is available on audio and in hardback starting this week.