Ms. Rachel, Blippi, & Meekah Team Up For The Crossover Episode Of Kids' Dreams
Plus, Ms. Rachel chats about exploring the big city.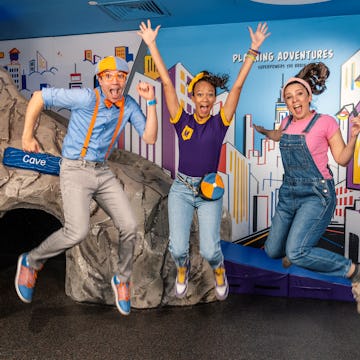 Moonbug Entertainment
If you follow best friends Blippi and Meekah, or fellow kids' TV personality Ms. Rachel on social, you already know that they finally met! If you didn't know, now you do. While details of the trio's adventures have remained top secret, we can now share: They filmed an episode together!
That's right; they didn't simply happen upon each other while in the city or coordinate a squeaky, excitable cocktail hour just for fun. Nope. Moonbug arranged for the wildly popular characters to meet and hang out while exploring "The Big City." What could possibly be more enthralling than an episode of Blippi and Meekah or an afternoon with Ms. Rachel? A Big Apple adventure with all three, of course!
And, oh my goodness, these three know how to party. From driving trains to operating a food truck, their partnership has led to one truly fun and fantastic episode that their tiny fans will go wild for... and maybe some mamas, too.
Not sure who or what we're talking about? Ease off the screen time limits and look up Blippi immediately. (Can you spell his name with me? B-L-I-P-P-I!) Blippi is the most popular live-action preschool brand on the market right now, clocking over a billion views each month. His brand now includes an animated series, a "treehouse" spin-off, toys, costumes, and a touring live performance. He's so popular, in fact, that the OG Blippi hired a second actor (aka "The Other Blippi") during the pandemic and launched his best friend, Meekah, played by two different talented actresses.
Meanwhile, Ms. Rachel is practically a household name with younger kids. Her videos are so popular across the globe that parents have even dubbed something called "the Ms. Rachel effect," where little British kids say certain words in American accents. Her chipper tone and clear, concise dialogue are excellent resources for parents hoping to help their babes master talking.
More About Meekah, Ms. Rachel, and Blippi Episode
While Blippi and Meekah often get together for field trips, Ms. Rachel has previously remained "outside" of Blippi's world. Now that's finally changing. In an episode titled "Blippi, Meekah, and Ms. Rachel's Musical Day in the City," the trio meets up and sets out on an adventure together. They play instruments, explore a wind tunnel, and even ride on a train together.
"Blippi, Meekah, and Ms. Rachel's Musical Day in the City" premieres July 29 on YouTube.
Ms. Rachel on Life in the Big City
Blippi and Meekah often seem like wayward travelers, but Ms. Rachel is firmly planted in New York. In the episode, Ms. Rachel shares how much she loves riding the subway. But buses, trains, and big city transportation offer all kinds of new and overwhelming experiences that kids may not handle too well. We asked Ms. Rachel how to make big-city adventures more enjoyable for little ones.
ScaryMommy: What learning opportunities do you see on public transportation? How do you make public transport fun for a bored kiddo?
Ms. Rachel: We can help young children think about how they get from one place to another. You can have them draw their favorite vehicle or make vehicles out of things they find at home, like cardboard boxes. Here in NYC, it's fun to learn letters, numbers, and colors with subway trains and buses. They can learn about the community helpers who operate the transportation and all about these important jobs. You can read books together about transportation. You can also make pretend subway/bus cards/tickets and make a pretend subway or bus station at home. Young children learn best through play!
Older children can explore how buses and trains work. Older children may be fascinated by the inner workings of these machines and can learn about how they get fixed, where they go when they are not being used, and how they process payment. Children can study the schedules and maps for their daily trips and select unfamiliar destinations along the route to explore in the future.
There are many ways to engage children on a bus or a train. You can prepare a simple scavenger hunt and challenge them to find each item during your trip. They can also follow along on a map as they travel to their destination. Sensory toys such as squishies and pop tubes can be helpful for some kids to hold on to during their travels. Children may enjoy small hand-held games, reading a great book, or solving written puzzles as they ride. Interactive games such as I Spy or Simon Says are also super fun!
SM: How do you handle overstimulation on public transport?
Ms. Rachel: Kids with sensory processing issues can find travel challenging. The noise, crowds, and bright lights can be overwhelming. Thoughtful planning and preparation are key to a successful outing. When children know what to expect, they will feel less stressed. A visual schedule showing all transportation plans for the day — as well as a social story outlining the route, possible changes, and coping strategies — can be helpful.
Assemble a kit containing items that will help your child feel more relaxed. These may include noise-canceling headphones, sunglasses, a favorite stuffed animal, and fidget toys. Water and healthy, familiar snacks can also help your child feel more comfortable.
SM: What is your favorite thing about riding the subway?
Ms. Rachel: I love riding the subway! I get car sick, but I don't get motion sickness on the subway. I also love that it's more environmentally friendly.
The subway gives us the freedom to travel to a variety of destinations and explore new places.
SM: When you ride on public transport, you see and meet all kinds of people that are often very different from you. Any tips for parents who have kids that like to point out differences between themselves and other people on the train?
Ms. Rachel: Use this as an opportunity to teach your child about how we are all different and to develop a positive perspective around it! Acknowledge differences and guide your child to also notice similarities with others. Model your own respect and appreciation for the rich variety of cultures, languages, and people you encounter. Engage in open conversations, read books, and watch media that celebrate and represent everyone, and expand the conversation to include friends and family.
SM: Ms. Rachel, Blippi, and Meekah are basically the trifecta. Will we see more meet-ups between our friends?
Ms. Rachel: We've definitely become friends in real life, which has been so wonderful. I'd love to work with them again in the future. We had such a blast!