'Gilmore Girls' Fans: Amy Sherman-Palladino Just Gave An Update About New Episodes
Could we get another season of 'A Year In The Life'?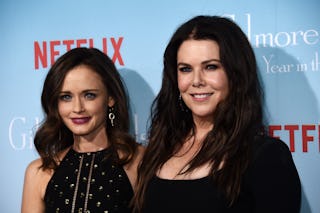 Amanda Edwards/WireImage/Getty Images
Gilmore Girls waited years for the reboot — Gilmore Girls: A Year In The Life — after show creator Amy Sherman-Palladino teased the idea for years. Once the show came to fruition and streamed on Netflix, bringing back almost the entirety of the original cast, fans couldn't believe that the four-episode installment ended on a cliffhanger.
What was supposed to be a wrap-up of a series that some say ended abruptly (Sherman-Palladino was not involved in the final season), ended with fans having so many more questions. While there's no plans for another season of the reboot, Sherman-Palladino says that new episodes are never "off the table."
The show creator recently explained that she wants to explore some of the other characters from the beloved series, noting that the wild and whimsical characters in Stars Hollow, also part of the Gilmore Girls family, have so much more to give.
"The thing about families is they never work their s**t out," she told Rolling Stone. "They are dysfunctional forever and because of that, it's the best possible way to come up with stories because you will never solve your problems there."
She added that there was more to say about certain characters and storylines in both the show's original run and its reboot, but time constraints meant that she had to pare things down.
If that's the case, can we talk about that part in A Year In The Life when we literally sit and watch 20 minutes of a weird, quirky play that performs at Miss Patti's Dance Studio? I've got a bone to pick with you, Sherman-Palladino!
She continues to explain that Lane Kim (Rory's BFF in the original show) got a raw deal with how the show wrapped up, noting she'd like to explore her story more.
"I really never liked the way Lane's life shook out. I would have liked to have spent more time on her," she added. "I think it would be interesting to see a baby and a kid and what that next Gilmore Girl round would be."
As for a timeline on when Gilmore Girls fans could expect some new episodes, that's still TBD.
"It really is all about the timing," she explained to US Weekly in 2022. "The stars just haven't aligned yet."