20 Thoughtful Gilmore Girls Gifts For The Lorelais & Rorys In Your Life
Doose's Market would be so lucky to carry these items.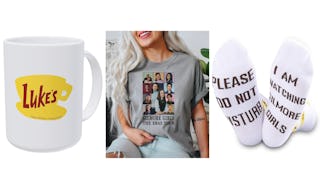 We may receive a portion of sales if you purchase a product through a link in this article.
We may never actually get to live in Stars Hollow, stop by Luke's for a quick coffee, or head to Miss Patty's for a town meeting — but we sure as hell can pretend. Your favorite Gilmore Girls binge-watching buddy deserves all of the Lorelai and Rory-themed gear out there. And so do you. Because, you know, oy with the poodles already.
From cozy Stars Hollow sweatshirts and quilts to cookie cutters and candles, I've searched and gathered truly the best Gilmore Girls items for your next rewatch party. Matching shirts with Emily Gilmore's face on them? Groundbreaking. Literature? Duh. A Gilmore Girls-themed cookbook? Look both ways, you never know where Sookie may be lurking.
Send the Lane to your Rory straight to Stars Hollow with these nostalgic Gilmore Girls-themed merch.
1. Gilmore Girls Eras Shirt
Are you ready for it? Show off your affinity for the Gilmore Girls with this Eras-themed t-shirt. Even Kirk makes an appearance!
2. Gilmore Girls Graphic Sweatshirt
Available in five different colors, this Stars Hollow crew neck plucks one of our favorite Lorelai-isms from the show. It also features one of the town's most iconic landmarks. Plus, it'll keep you cozy and warm while you binge-watch GG for the hundredth time.
3. Smells Like Shes Watching Gilmore Girls Again Candle
Described as a candle that "smells 100% like Rory Gilmore studying while sipping coffee," this is exactly what you need to set the mood for your Gilmore Girls fall rewatch party. It has a burn time of 60 hours, aka 60 episodes or about three seasons. Choose from scents like Sea Salt + Orchid, Sage + Lavender, and Clean Cotton, all of which are made from natural soy wax.
4. Emily Gilmore Vintage T-Shirt
It's time to be honest with ourselves: Emily Gilmore is the unsung hero of the drama TV series. Sure, she has a temper and often acts like she has a stick up her you-know-what, but her one-liners and outfits are just as memorable as her daughter's. Emily Gilmore t-shirt > band t-shirt.
5. Gilmore Girls 50-Piece Sticker Set
Slap a sticker on your laptop, cell phone case, notebook, and water bottle. The Gilmore fandom knows no bounds!
6. Jackson's Fresh Produce Canvas Tote
Is it really a successful trip to the farmers market if your produce isn't safely stowed in a tote stamped with Jackson's Fresh Produce on it? The bag is extra roomy in case you want to swing by the bookstore, too.
7. Gilmore Girls Sweatshirt
It doesn't matter if you're Team Luke or Team Christopher, or your favorite Stars Hollow landmark is the gazebo or Luke's Diner, because this sweatshirt has a special nod to just about everything — including the deer and signature Rory cocktail.
8. Dragonfly Inn Key Fob
The closest you'll ever get to checking in to the Dragonfly Inn. Now, if only we could get a homemade meal by Sookie and a snarky welcome from Michele with that key fob, too.
9. Gilmore Girls Classic Movie Quilt
Lorelai would want you to own this quilt, hands down. Not only is it made by hand, but each square is a tribute to a special moment in Gilmore Girls time. Available as a twin, queen, or king size.
10. Gilmore Girls Set of 4 Cookie Cutters
Take your Gilmore Girls watch party to the next level with Gilmore Girls-themed cookies. Each set comes with a Luke's Diner, "I smell snow," "Gilmore Girls," and Dragonfly Inn-inspired cookie cutter.
11. Gilmore Girls Baby One Piece "Luke's Diner" Bodysuit
It's never, ever too early to become a Gilmore Girls fanatic.
12. Eat Like a Gilmore: The Ultimate Unofficial Cookbook Set by Kristi Carlson and Bonnie Matthews
Get ready to actually eat like a Gilmore. This cookbook is chock full of 100 recipes, all inspired by episodes of Gilmore Girls. Bring on all of Emily Gilmore's salmon puffs and Sookie's desserts.
13. Gilmore Girls Al's Pancake World Tank Top
Al's Pancake World might not have the best cuisine, but it does the trick for Lorelai and Rory... so we'll all have to get on board.
14. Gilmore Girls Dragonfly Inn Shirt
Represent Stars Hollow's best inn with this comfy purple T-shirt. You know Michel would be so proud (and steal one for himself as well).
15. Gilmore Girls TV Show Coffee Mug
I'm all for the reading and talking and thinking and drinking and rocking. But let's save the cooking for Sookie, ya?
16. Talking as Fast as I Can: From Gilmore Girls to Gilmore Girls (and Everything in Between) by Lauren Graham
Get an in-depth, behind-the-scenes look at the making of Gilmore Girls with Lauren Graham's New York Times bestselling memoir. It's basically like going back to Chilton all over again.
17. Luke's Diner Mug
Wishing that Luke's was a real-life place where you and your best bud could plop down at a table and drink copious amounts of coffee and talk as fast as you can? This Luke's Diner mug will let you take a piece of Stars Hollow with you.
18. Stars Hollow Adult Coloring Book
Need a way to burn off some of that coffee-fueled nervous energy you've got? Put it to good use with a little focused relaxation via this grownup Gilmore Girls-inspired coloring book.
19. Jay Franco Gilmore Girls Stars Hallow Throw Blanket
What better to keep you warm and cozy during a GG binge-watching sesh than a cozy GG-themed blanket? This 46" x 60" fleece throw is the perfect size for keeping on the couch for easy access.
20. "Watching Gilmore Girls" Socks
Send a clear message to everyone who might dare disturb your favorite pastime by wearing these fan-favorite socks.