14 New Kids' Movies & Shows On Netflix That Will Entertain The Whole Family This August
From Heartstopper Season 2 to The Monkey King, August is full of must-see family TV shows and movies on Netflix.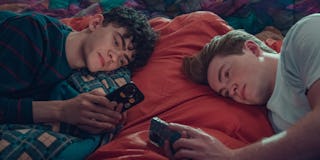 Samuel Dore/Netflix
As summer comes to an end, there are likely two things on your mind: preparing your kids to head back to school and keeping them cool in the meantime. The dog days of summer mean playing outside is mostly a late evening and early morning activity for the moment, which in turn leads to even more "I'm bored" whines than usual for the kiddos. Given how busy the unofficial last month of summer is, there's no harm in turning to Netflix's family-friendly lineup of movies and TV shows for August to get your family through the last sweltering days of the season before school returns to session.
This month's selection of new titles may be small, but there's at least one show or movie for every member of your family to get excited about. For the teens and tweens, the undeniable highlight will be the return of the swoon-worthy Heartsopper for its highly anticipated second season. Netflix hasn't forgotten about the younger members of your fam either: This month also brings the new animated movie The Monkey King, a fourth season of The Wiggles, and the heartwarming Paddington, perfect for co-viewing.
Even though August is poised to be a hectic month, Netflix's lineup of family-friendly movies and shows is the perfect excuse to slow down and savor the last few weeks of summer before the full chaos of back-to-school season hits. Check out the streamer's full lineup of new kids' content ahead.
What's New On Netflix In August? The Highlight Reel
Heartstopper: Season 2 — Aug. 3
Nick and Charlie are officially dating in the new season of Heartstopper, but that doesn't mean things will be smooth sailing for the new couple. From embarking on a class trip to Paris to merging their friend groups and helping their pals navigate their own romances, Season 2 is set to have just as many heartfelt coming-of-age moments as the show's critically-acclaimed first season did.
The Big Nailed It Baking Challenge — Aug. 4
Need a show the whole family can appreciate? The Big Nailed It Baking Challenge is that show. The combination of host Nicole Byer's quips and the contestant's relatable baking fails (and triumphs!) make this supersized version of the beloved reality competition series a must-watch for all ages.
Paddington — Aug. 14
As far as cozy movies go, they don't get any cozier than Paddington. The 2014 film about a marmalade-loving bear who finds a home with a reluctant family in London is like a warm hug in movie form.
The Monkey King — Aug. 18
Netflix's latest original animated movie chronicles the adventures of Monkey, a hero on a quest to take down 100 demons with his magic fighting stick. Along the way, he meets a young village girl who challenges his ego and teaches him that even heroes need help sometimes.
You Are So Not Invited To My Bat Mitzvah — Aug. 25
Based on Fiona Rosenbloom's 2007 book of the same name, You Are So Not Invited to My Bat Mitzvah follows a young girl whose plans for the perfect Bat Mitzvah go comically awry due to dress mishaps and boy troubles. While tweens are sure to find the movie relatable, you'll enjoy it too, thanks to it featuring the comedic stylings of Adam Sandler (and most of his family).
More Family Movies & Shows Coming to Netflix in August
Bee Movie — Aug. 1
Despicable Me — Aug. 1
Despicable Me 2 — Aug. 1
Madagascar 3: Europe's Most Wanted — Aug. 1
Cloudy with a Chance of Meatballs 2 — Aug. 1
Gabby's Dollhouse: Season 8 — Aug. 8
Mech Cadets: Season 1 — Aug. 10
The Wiggles: Ready, Steady, Wiggle: Season 4 — Aug. 14
My Dad the Bounty Hunter: Season 2 — Aug. 17