17 New Kids' Movies & TV Shows On Netflix To Watch With The Family In July
Netflix is tossing exciting new content in with classic favorites like The Karate Kid and Jumanji.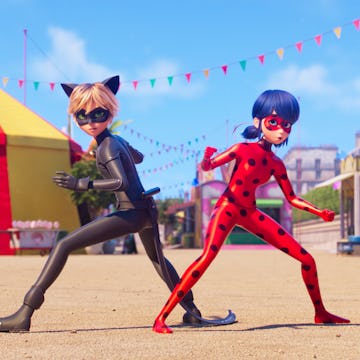 Courtesy of Netflix
Summer is a season steeped in nostalgia. Once upon a time, you spent nearly three months of the year playing, reading, and exploring the world at your leisure. Now you get to do it all again through the eyes of your kids — although, you definitely appreciate your parents way more now that you're the one packing beach bags, sorting the 25 snack requests a day, and listening to your children complain about being bored. Thankfully, Netflix can help with that last one with its selection of new family-friendly titles hitting the streamer this July — several of which are classic favorites you probably watched on rainy summer days back in the '90s.
Netflix is serving up plenty of fresh movies and TV shows, too. If you have a Sonic-loving kid in your household, they'll be thrilled to know Season 2 of Sonic Prime is hitting the streamer on July 13. Meanwhile, recent blockbuster Puss in Boots: The Last Wish is also streaming this month.
But the most exciting titles are the ones that will take you back to your own summer vacations when you share them with your kids on family movie night. From the original The Karate Kid trilogy to 1995's Jumanji, Netflix's July lineup is full of classic kids' movies you can watch with your children on a lazy summer day.
Keep reading to check out the full list of family-friendly titles coming to Netflix in July.
What's New On Netflix in July? The Highlight Reel
Jumanji (1995) — July 1
The new Jumanji movies are a blast to watch, but there's still something special about the original film. Maybe it's Robin Williams at the height of his comedic powers delivering a performance that's both hilarious and heartbreaking. Maybe it's the escaped monkeys. Whatever it is, this movie about a magical board game remains a must-watch after all these years.
Puss in Boots: The Last Wish — July 13
Puss in Boots runs out of lives in the latest movie in the ongoing Shrek franchise, and the results are surprisingly poignant. This charming family film packs a punch thanks to its lessons on living life to the fullest and facing your fears. It also features an absolutely adorable dog who disguises himself as a cat in hopes of finding a home (yes, he will melt your heart).
Wake Up, Carlo!: Season 1 — July 6
This Brazilian animated series is making its stateside debut this month, and it's perfect for youngsters who love the cartoons on Cartoon Network. The series follows a young boy named Carlos, who falls into a magical sleep that sends him on a grand adventure.
Captain Underpants: The First Epic Movie — July 10
Based on Dav Pilkey's beloved children's book series, the 2017 Captain Underpants is the perfect movie to queue up on a rainy day when you need the kids to just chill for a bit. It's silly, full of hijinks, and the kind of film kids will happily watch three times in a row without complaining.
Miraculous: Ladybug & Cat Noir, The Movie — July 28
Ladybug gets an origin story in the first feature-length movie based on the hit Ladybug & Cat Noir animated series. If your kids haven't seen the series yet, start them off with this — then they can work their way through the show's five seasons in their downtime.
More Family Movies & Shows Coming to Netflix in July
The Dragon Prince: Season 5 — TBA
The Karate Kid (2010) — July 1
The Karate Kid (1984) — July 1
The Karate Kid Part II — July 1
The Karate Kid Part III — July 1
Liar Liar — July 1
StoryBots: Answer Time: Season 2 — July 10
Sonic Prime: Season 2 — July 13
Morphle 3D: Season 1 — July 15
My Little Pony: Tell Your Tale: Season 1 — July 15
Supa Team 4 — July 20
Dew Drop Diaries — July 24
Happy summer streaming!