26 New Family-Friendly Netflix Movies & Shows To Kick Off Summer This June
Summer movie nights are a go, thanks to fresh Netflix titles like Nimona.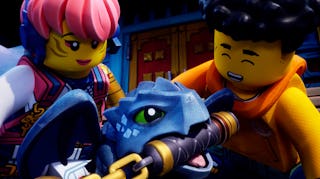 Courtesy of Netflix
Ready or not, summer has arrived. The kids are out of school, the sun is shining longer, and the number of hours in the day that need to be filled with kid-approved activities feels like it's doubled. Thankfully, Netflix's June lineup of family-friendly movies and TV shows is full of content you can feel good about letting your kiddos watch. Plus, there are plenty of shows and movies you can watch as a family, too.
This month includes everything from the return of the hit teen series Never Have I Ever for its fourth and final season to the debut of Nimona, an animated film based on the beloved graphic novel by ND Stevenson. Additionally, Netflix is keeping the younger set entertained with a new season of Tayo the Little Bus and the debut of the adorable Not Quite Narwhal, which features both narwhals and unicorns for maximum cuteness.
However, the most hotly anticipated title of them all might just be the return of the addictive game show, Is It Cake? Go ahead and plan on staying inside all day on June 30, because everyone in your family will be too busy deciding if they're looking at cake or a shoe to bother going outside. Now that's what we call fun for the whole family.
Read on for a full list of all the family-friendly movies and TV shows coming to Netflix this month.
What's New On Netflix in June? The Highlight Reel
LEGO Ninjago: Dragons Rising, Season 1 — June 1
If you have LEGO-loving kids in your house, LEGO Ninjago: Dragons Rising will surely be a hit with them. The new series follows two teens from different worlds who discover they have ninja powers. The unlikely duo team up to use their newfound powers to protect dragons from an evil force determined to use the creatures for their own gain.
Never Have I Ever, Season 4 — June 8
Devi (Maitreyi Ramakrishnan) is back for one more round of high school adventures in Never Have I Ever's fourth and final season. This always funny and occasionally heartbreaking series makes for a perfect teen daughter/mom co-watch. Because as much as the comedy focuses on Devi's complicated love life, at its heart, the show is about Devi processing the grief of losing her father and finding common ground with her mother.
Not Quite Narwhal, Season 1 — June 19
What's cuter than a narwhal? A narwhal who is also a unicorn! This vibrant animated series has all the hallmarks of a preschool hit: bright colors, adorable characters, and just enough magic to keep the little ones enthralled while you're wrapping up dinner.
Is It Cake, Too?! — June 30
A new group of bakers competes to see who among them can fool a panel of judges into thinking their cake is actually a sewing machine or rubber duck in Season 2 of this simple yet oh-so-bingeable game show. This season, the bakers will draw inspiration for their mind-bending confections from topics like camping trips and '90s nostalgia. But let's be real, the best part of this show is seeing which member of your family is the best at figuring out whether they're looking at a meticulously crafted cake or a very real telephone.
Nimona — June 30
Stevenson's graphic novel comes to life in this beautifully animated movie. The story follows a knight framed for a murder he didn't commit and the shapeshifting teen Nimona, who becomes his unlikely ally. Under normal circumstances, the knight would be duty-bound to kill Nimona, but now she may be the only one who can help him clear his name.
More Family Movies & Shows Coming to Netflix in May
The Angry Birds Movie (2016) — June 1
Hook (1991) — June 1
Jimmy Neutron: Boy Genius (2001) — June 1
Kicking & Screaming (2005) — June 1
Mean Girls (2004) — June 1
Mr. Peabody & Sherman (2014) — June 1
Nanny McPhee (2005) — June 1
Nanny McPhee and the Big Bang (2010) — June 1
Spider-Man (2002) — June 1
Spider-Man 2 (2004) — June 1
Spider-Man 3 (2007) — June 1
Stuart Little (1999) — June 1
Stuart Little 2 (2002) — June 1
Surf's Up (2007) — June 1
Ben 10 (2005-2008), Seasons 1-4 — June 5
My Little Pony: Make Your Mark (2022), Chapter 4 — June 6
Tom and Jerry Tales (2006-2008), Seasons 1-2 — June 12
Our Planet II (2023– ) — June 14
My Little Pony: The Movie (2017) — June 19
Pokémon Ultimate Journeys: The Series (2021), Part 3 — June 23
Tayo The Little Bus (2010-2022), Season 5 — June 30
Happy summer watching!