Pink Shocked After Fan Throws Mother's Ashes At Her On Stage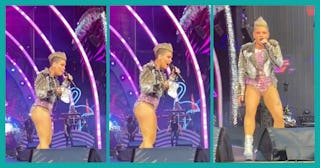 Twitter / @jomas__
Anyone who wants to argue that concert etiquette hasn't totally gone out the window in a post-pandemic world needs to see this video immediately. During a recent show, singer Pink was left absolutely befuddled after a fan threw a baggie containing her mom's ashes on stage.
The "So What?" singer totally took the moment in stride, cautiously picking up the bag and trying to remain calm during the bizarre moment.
"This is your mom?" Pink can be heard asking in a video as she picked up the bag. "I don't know how I feel about this."
The 43-year-old mom of two walked on the stage with the bag and set it down before continuing singing her hit 2001 song, "Just Like a Pill."
While the moment was totally strange and semi-boundary crossing (Pink didn't consent to having literal human remains thrown at her...), the UK (where the concert was held) doesn't have specific laws banning the spreading of human ashes, though it's recommended to get the permission of the person who owns the land before doing anything with the remains of a loved one.
So, if anyone else is planning to douse Pink with some ashes this summer, maybe give her a heads up.
This viral moment is not the first shocking violation of concert etiquette this summer. Last week, Ava Max said an audience member stormed the stage and proceeded to slap her while she performing during a show in Los Angeles.
Pop singer Bebe Rexha was in the hospital earlier this month after an audience member threw a cell phone at her during a concert, leaving her with a black eye.
Several fans who attended Taylor Swift's Eras Tour have complained about fans screeching in their ears for the entire show instead of just, y'know, enjoying the show and singing along like a normal person.
Those complaining about loud scream-singers have been met with mixed responses. Some agree that after spending a pretty penny to see Swift, fans who are screaming the entire show are the worst kind of person while others think anyone who has a ticket to the show has a right to "enjoy" the concert.
Several fans of the band Boy Genius — a supergroup put together by indie rock artist Phoebe Bridgers — have also complained about the lack of concert etiquette at their recent shows. One fan posted in the r/phoebebridgers subreddit, begging fans to act appropriately at shows.
"Last night I saw boygenius, and it was the worst concert I've ever been to because of the crowd," she wrote.
Some have argued that — in the age of social media and viral moments —fans are a bit more unruly and willing to do literally anything to get their favorite artist's attention. Even if that means chucking the charred remains of your mom on stage at a pop icon, but hey, here I am writing about it so it seems to be working!