Don't Pour The Margaritas Yet
Is Practical Magic 2 Really In The Works? The Truth About Those Viral Rumors
This cult classic cast quite the spell over our hearts in 1998.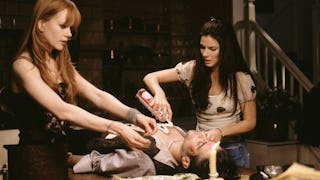 Warner Bros.
There's just something so bewitching about sisters and female friendships — the dynamic between polar opposites will always pull you in. That's what makes it fun to watch Anne and Diana's connection blossom in Sullivan's Anne of Green Gables. And sadly, it's what yanks at our heartstrings each time we cue up that old VHS of Beaches with Bette Midler and Barbara Hershey. Hopping on that enthralling, nostalgic sisterhood and friendship trope, Practical Magic hit the big screen in October 1998 and cast a spell over everyone who watched it. Since its release 25 years ago, many fans have longed for an update on the Owens sisters. Now, rumors of their return are spreading like wildfire. But is Practical Magic 2 really happening?
We all fell head over heels for the Owens family from the very moment Stockard Channing and Dianne Wiest's witchy aunts told Sally and Gillian, "In this house, we have chocolate cake for breakfast." The familial chemistry! The sorcery! The midnight margaritas! There's so much to love about this cult classic. So, of course we want to catch up with the gals and see what life has brought them since their (seemingly) last time playing with magic.
If you've seen — or even shared — one of the many viral Practical Magic 2 posters floating around social media, here's what you need to know about the actual possibility of a sequel.
Is Practical Magic 2 coming in 2023?
Sadly, we're calling BS on this rumor. None of the original cast has addressed the rumors. And that magical-looking announcement "poster" isn't from an actual film studio. While revealing a Practical Magic sequel is in the works would be truly remarkable, it's currently impossible to confirm.
As other sources have pointed out, the Practical Magic 2 graphic seems to have originated from RuPaul's Drag Race Family, a fan-run Drag Race-devoted Facebook page. It could have been an attempt to generate more chatter and bring in some new members (it happens more than you probably realize).
The hitch? The fabricated poster has caused quite a bit more excitement than the typical engagement tactic. We all ~really~ want Practical Magic 2.
What story would Practical Magic 2 tell?
Let's have a little fun for a moment, shall we? While it seems highly unlikely that a Practical Magic sequel is currently in the works, that doesn't mean it's entirely out of the question for the future. As a matter of fact, the story has already been written!
For those who don't remember (or were too young to know), the 1998 film is based on a book. Written by Alice Hoffman, Practical Magic is the first in a quartet of books that follows the oh-so-magical Owens family. The next three books are The Rules of Magic, Magic Lessons, and The Book of Magic. The synopsis written to accompany the seemingly fake Practical Magic 2 movie poster follows the plot of The Book of Magic almost perfectly. Stating, "When Sally's Grand Daughter turns 16, all hell breaks loose when an ancient family curse finally descends. Tracking down the source to a long-forgotten Owens family coven, the six Owens women must travel across the country if they have any hope of saving the future of their family."
It sounds lovely. If only it were confirmed by a studio, any of the original cast, or Hoffman herself.
Who would return for Practical Magic 2?
While it's important to point out that, again, Practical Magic 2 has not been confirmed and is unlikely to happen any time soon, it's worth noting that the original cast would probably be on-board.
All of Practical Magic's adult cast and most of the daughters are still active in Hollywood. Both Sandra Bullock and Nicole Kidman have become giant stars and household names. Yet, at the same time, both have settled into a slower Hollywood pace, meaning they would have time to work on the project if they wanted to. And in digging through some older interviews, they have nothing but love and good memories from their time on set.
If Practical Magic 2 ever becomes a reality, you should expect the return of practically everyone from the original cast, even if it's just a cameo. That includes:
Stockard Channing
Nicole Kidman
Sandra Bullock
Dianne Wiest
Aidan Quinn
Goran Visnjic
Mark Feuerstein
Margo Martindale
Evan Rachel Wood
Chloe Webb
Camilla Belle
Alexandra Artrip, who played the youngest version of Bullock's Sally, might be the only original cast member unlikely to show up. The child actor did a few roles when she was younger but has since left Hollywood and works in sales. However, she may be willing to return if the part felt special enough.
Were you hoping for Practical Magic 2? You're clearly not alone. While this particular rumor seems like nothing more than a rumor, keep your fingers crossed that it caused enough hubbub for movie execs to give thought to a sequel.