The First 'Red, White & Royal Blue' Trailer Is Here & We're Freaking Out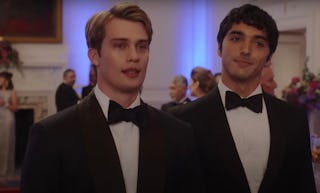 Prime Video
We may receive a portion of sales if you purchase a product through a link in this article.
Fans of the popular romance novel Red, White, and Royal Blue are in for a treat now that Amazon Prime has picked the book up for a feature film.
The first full-length trailer for the film adaptation of the best-selling book written by Casey McQuiston just dropped, giving fans a look into the complicated relationship between Alex Claremont-Diaz (played by Taylor Zakhar Perez), the son of the President of the United States, and Britain's fictional Prince Henry (played by Nicholas Galitzine), and let's just say, it is giving.
The trailer, which dropped today, shows Alex and Henry making a mess of their social status as well as their family's reputations while gathering together at a formal dinner event at Buckingham Palace.
The trailer then shows Alex's mom, President Ellen Claremont — played by the iconic Uma Thurman (who dons a southern accent?) — warning her son before the event not to "cause an international incident."
Cue Alex and Henry crashing into a giant cake at the dinner, resulting in headlines across newspapers the next day that read, "President's son Alex Claremont-Diaz and Prince Henry destroy UK heir's wedding cake."
To repair the reputation damage done to both high-ranking families, Alex and Henry are forced to fake a friendship, which results in the two building a deeper bond, which eventually leads to romance.
An enemies to lovers trope? Yes, please!
The new friends amp up their relationship when a pensive Henry wonders out loud to Alex, "Do you wonder who you'd be if you were an anonymous person?"
Before Alex can answer, the two share a kiss.
From there, hijinks ensue, including the new couple working to keep their romance under wraps from the public while remaining loyal to their families (who have their own political agendas).
Matthew Lopez directs the film on the Prime Video project, a role he dreamt of while reading the novel himself.
"I first read the book in early 2020 and I decided I wanted to make the movie by page 100," he told Entertainment Weekly.
"I fell madly in love with the characters and I wanted to bring them to life on the screen. I also was excited at the prospect of filming scenes set in the world of the presidency and the British Royal Family. I shamelessly harassed [producers] Greg Berlanti and Sarah Schecter into backing me with the studio to direct it. The idea that someone else might make this movie filled me with unbearable jealousy."
Lopez won the 2020 Tony Award for Best Play for his work on The Inheritance — a gay epic inspired by Howards End.
While The Inheritance has a more dark, serious tone, Lopez was thrilled to have a hand in a happier gay love story.
"[I found] in the book something I had rarely seen on screen: a love story between two young men that is hopeful, funny, and deeply romantic," he added.
As for the cast's chemistry, Lopez says we're all in for a treat.
"Nick brings a tremendous amount of vulnerability and dignity to Henry. Taylor turned himself into a human cannonball in order to bring Alex to life," he said.
We cannot wait to see this cast make history this summer. Red, White & Royal Blue will be released August 11 on Prime Video.