12 Books That Are Actually Better In Audio Form
Waiting for your kid in the school pickup line just got a lot more interesting.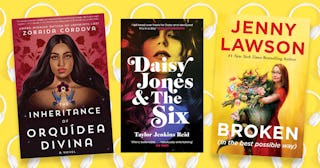 Scary Mommy, Amazon and Dziggyfoto/Getty
We may receive a portion of sales if you purchase a product through a link in this article.
We all love reading books. And there is something so special about feeling the weight of a book in your hands, leafing through the pages, and smelling that ink-on-paper new book smell. But also—there are just some books that are simply better to listen to than to read.
With the help of our fabulous Scary Mommy Book Club community, we've collected a list of must-listen-to audiobooks. What makes these audio stories better than their book or e-book versions? In some cases, it's killer production value like added music or sound effects. Other times, it's a celebrity reader like Dolly Parton or the one-and-only Julia Whelan. And still other times, it's because it's read by the author, and that adds a layer of closeness and power and intimacy that takes the story to the next level.
It's so hard to find time to read a novel — especially if you have kids, but even if you're just juggling a lot of responsibilities. Audiobooks allow us to read while we're cleaning, cooking, jogging, or basically any other –ing, and the following audiobooks can be an even better experience than if you really did have time to put your feet up and read traditionally.
So whether you're off on an amazing road trip or plane ride, or if you've got seven loads of laundry to fold (we are projecting), or if you need company on your daily walk, these audiobooks will bring your ears joy and let your imagination run wild.
And never forget: listening to an audiobook is just as good as reading. It's science!
The Honeymoon Crashers by Christina Lauren
An audiobook original, The Honeymoon Crashers is an audio spinoff of Christina Lauren's beloved rom-com, The Unhoneymooners, with a full-cast production featuring the voices of Jessica Marie Garcia (On My Block) and Harry Shum Jr. (Everything Everywhere All At Once). In the book, a meticulously organized maid of honor teams up with the best man, a happy-go-lucky surfer, to plan the ultimate destination wedding in Hawaii. Let's just say, the ocean's tide isn't the only thing pulling these two towards each other.
Thank You For Listening by Julia Whelan
We'd be remiss if we didn't feature Thank You For Listening by arguably the best narrator of our generation, Julia Whelan, on this list. It's a book about audiobooks, by the best narrator in the biz, who also narrates her own book! What more could our precious ears and imaginations ask for? This delightful rom-com follows Sewanee Chester as she navigates life: caring for a sick grandmother, questioning her successful audiobook career, and looking back on tough events in her past that changed the course of her life. Her life gets flipped on its head when she spends an amazing night in Vegas with a complete stranger, and she starts a written correspondence with Brock McNight, a famed narrator of romance books with a hidden identity.
The Inheritance of Orquídea Divina by Zoraida Córdova
If you like magical realism, family drama, and rich storytelling, this is absolutely just for you. And while the book will grab your attention and your imagination from the first chapter, the audiobook, narrated by Frankie Corzo, brings the story to life on an entirely different level. Each character comes to life, and it honestly feels like this way — hearing it read out loud — is the way the story should be told, just like so many timeless folktales and fairy tales.
The Searcher by Tana French
From the author of the amazing Dublin Murder Squad books comes The Searcher, a slow-burning crime novel about a retired Chicago policeman who finds himself investigating a missing child case in a small village in Ireland. Beautifully written and completely engrossing, listeners will hang on every pretty Irish word that comes out of the mouth of narrator Roger Clark. As much as we love her ongoing series, we seriously love this standalone book and couldn't stop listening.
Daisy Jones & The Six by Taylor Jenkins Reid
This book is what audiobooks are made for—and perhaps our strongest example of a listen being better than a read. In this best-selling novel, which follows the arc of a famed 1970s rock band headed by Daisy Jones, a wide cast of characters gives an oral history of how the band formed, what their rise to fame was like, and their eventual downfall. It's superbly cast, with actress Jennifer Beals taking the lead, and it truly shows the power of audiobooks and the worlds they can create.
Becoming by Michelle Obama
This Grammy-winning audiobook won a Grammy for a reason, people! It's the charismatic, smart, funny former First Lady Michelle Obama telling the story of her amazing, historic life. First of all, the audio version is way easier to carry around than the huge tome that is Becoming. Secondly, hearing her voice tell her own story is powerful and inspiring at a point that words on the page can't reach.
Project Hail Mary by Andy Weir
The audio version of Andy Weir's sci-fi fantasy novel comes highly recommended by our Scary Mommy Book Club community, with many bookworms noting that due to its genre and size, it isn't a book they would have typically picked up otherwise. Set in the future, the book revolves around Ryland Grace, a teacher-turned-astronaut, who wakes up from a coma with no recollection of how he got there. Narrator Ray Porter won Audiobook of the Year in 2022 for his performance, and many of our members say his voice resembles Tom Hanks'!
Greenlights by Matthew McConaughey
OK, we will be the first to admit that we did not think we were the target audience for this memoir by actor Matthew McConaughey. But it turns out that the guy is heartfelt and introspective, kind and thoughtful, and has maybe the sexiest voice in existence. Your opinion will soar from "I guess I like some of his movies" to "I just binge-listened to seven hours of Matthew talking about his amazing life and I would do it again."
The Divines by Ellie Eaton
When a woman named Josephine begins to revisit her past at an elite girls' school, she begins to uncover secrets revolving around a long-ago scandal that affected everyone around her. Read by actress Imogen Church, this beautiful page-turner (what's the audio version of page-turner?) will have you looking up other books written by Ellie Eaton and other books narrated by Church.
Broken (in the Best Possible Way) by Jenny Lawson
An Earphones Award Winner, Broken (in the Best Possible Way) is the third memoir from the extremely funny Jenny Lawson, who continues to write with an open heart about her struggles with depression and anxiety and life in general. No exaggeration: this book is laugh-out-loud funny, and listening to the audio version of Lawson telling it like it is with her own voice makes it feel like you are on the best friend date of your life.
Nothing to See Here by Kevin Wilson
A Scary Mommy Book Club favorite, Nothing to See Here by Kevin Wilson centers around a woman who begins caring for two young children with uniquely unusual personalities. Hearing the story come to life via the narrator's Southern accent brings a whole new level of authenticity and intimacy to the novel, which is set in Tennessee. Narrator Marin Ireland absolutely killed it. One Scary Mommy reader shared that she tried reading the book on her Kindle after listening to it in the car, and couldn't get back into it because it wasn't as engaging. If that isn't a sign, I'm not sure what is.
Born a Crime by Trevor Noah
You might know him best as the former host of The Daily Show as well as a notable stand-up comedian, but after you listen to his memoir, Born a Crime, you'll think of him as your new best friend who made you laugh like a complete idiot for hours. We love Noah's South African accent, his impressions of friends and family, and how he brings all of the stories of his life to your ears, from the hilarious to the touching. There's one story about his friend Hitler (no, not a typo) that is a must-listen.
This article was originally published on