Rihanna Thinks Baby Clothes Are 'Sooo Boring,' Teases A Possible Babywear Line
"I feel like the kids need it," she said. "Let's get these kids cool."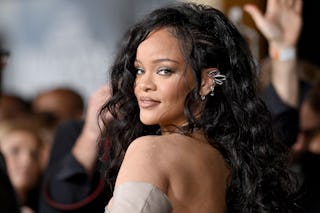 Axelle/Bauer-Griffin/FilmMagic/Getty Images
Rihanna's approach to maternity clothes during her first pregnancy was bold, fresh, and unique — so it's no surprise that the pop star, fashion icon, and entrepreneur is also thinking a lot about what needs to change when it comes to the current state of baby clothes.
The 34-year-old singer, who announced her second pregnancy during the Super Bowl Halftime Show last weekend, sat down with British Vogue for her first in-depth interview since becoming a mom to talk about all things related to parenthood, business, and music with journalist Giles Hattersley. And while she had plenty to say about how her life has changed since she and partner A$AP Rocky welcomed their baby (no name has been revealed just yet) in May, one thing she took a moment to go off on the sad state of baby fashion.
More: All Hair Rihanna, Queen Of Maternity Wear
"When you come up with something in your head, half the time it is not available because kids' clothes are so — they're sooo boring," she revealed in the interview. "I'm like, 'This is what y'all been doing to these people's kids all along?'"
She admitted that she gets many of her baby's clothes made-to-order because she just doesn't like what is offered off the rack — a luxury that the self-made billionaire, but not many other people, can afford. What she wants to see is bright colors and florals for boys, and looks that are more grown-up and fun than what's offered at kid stores.
"One of my favorite outfits he has is a miniature version of one of Rocky's," she said, describing it as a tartan kilt worn over ripped jeans. "I like to dress him in things that don't look like baby clothes. I like to push it. I put him in floral stuff. I put him in hot pink. I love that. I think that fluidity in fashion is best. I always shop in the men's department, you know."
When the interviewer suggests a line of Fenty babywear, Rihanna seems totally into the idea.
"I feel like the kids need it," she responds. "Let's get these kids cool," she reportedly shouted. "These kids deserve to be cool."
When she wasn't sharing how miffed she was about baby clothes offerings, the "Umbrella" singer spent much of her interview gushing about how much she's enjoyed being a mom and reflecting on just how big the change has been.
First, she talked about her labor, delivery, and early days at home with the baby.
"It was beautiful," she said of the birth.
But bringing the baby home was a "head-f—k," explaining that, "Essentially, from one person I became two. You walk into the hospital as a couple and leave as a family of three. It's nuts. And oh, my gosh, those first days are insane. You don't sleep. At all. Not even if you wanted to. We came home, cold turkey, had no one. It was just us as parents and our baby. Man, you're a zombie for the most part."
And even if you're a billionaire, it's still hard to find time to shower in those early days.
"You're of service. Literally that is it," she said of mothering an infant. "You are joyful when you get the time to shower. You know, I remember in the beginning I used to roll his bassinet into the bathroom and be showering and like wiping the fog off [the glass] just to peep at him."
She also talked in detail about her decision to do the Super Bowl, and how becoming a mom made it possible for her to say yes even though she was scared.
"It's this knowing that you can do anything, even things that seem the craziest, like, 'I'm going to say yes to the Super Bowl in the middle of postpartum?'" She told Vogue. "What the heck am I thinking? But you're geeked on a challenge like that because you know what your body just did. You feel this sense of 'Nothing is impossible.'"
At the time of the interview, which happened about five weeks ago, it seems like RiRi didn't know she was pregnant with her second baby just yet, so everyone will have to wait until her next interview to get her thoughts on that. Until then, fans can patiently wait for — perhaps — some baby clothes that aren't so boring.
Read Rihanna's full interview in British Vogue.