'Selling Sunset' Star Mary Fitzgerald Opens Up About Her Miscarriage On Camera
"I was in shock," the realtor said.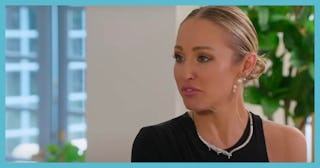 Netflix / YouTube
The newest season of the Netflix hit reality show, Selling Sunset, premiered today with new stories, fights, and fashionista realtors in the Oppenheim Group offices. However, one specific journey has given the new season of Selling Sunset a heavier tone, resonating with so many viewers.
In the premiere episode, Mary Fitzgerald finds out she and her husband, Romain Bonnet, are expecting their first child together.
The popular real estate agent — already a mom to an adult son, Austin — shared the positive pregnancy test news with friends, discussing parenthood. This time, Fitzgerald says, she wouldn't be "on her own," noting that she had Austin when she was a teen.
"I'm really excited for her to experience it the way she deserves to. She was a baby when she had Austin. She's traumatized from that experience," fellow Oppenheimer Group realtor, Amanza Smith says top the camera during her interview.
"It's gonna be so good this time. It's gonna show her and help her believe that she's an amazing mom."
A few episodes into the season, however, at a doctor's appointment, Fitzgerald learns no heartbeat was detected during the ultrasound.
"It was heartbreaking to say the least," she told TODAY.com of her miscarriage. "I was just in shock."
Fitzgerald shared the news with her followers in an emotional video on Instagram back in March, clarifying that she had a septic miscarriage and required surgery.
According to the Mayo Clinic, a septic miscarriage occurs when an infection develops in the uterus after miscarrying. Symptoms include fever, chills and lower abdominal tenderness.
The new season of Selling Sunset captured the aftermath as Fitzgerald shared the devastating news with her co-stars and friends. She told Smith that she feels "so numb."
"I go from crying to just numb," she shares as Bonnet comforts her.
"I don't know what the normal timeframe is to get over something like this and I just keep moving forward and trying to put a smile on my face and act like everything's OK, but it doesn't feel OK," Fitzgerald confessed in the show's interview.
Fitzgerald, Vice President of The Oppenheim Group, told TODAY that she decided to take some time away from the show after she experienced her miscarriage.
She says producers "knew that I didn't need to be anywhere around the drama."
"They know how much I get stressed out from all the girl drama and it really just irritates me," she added.
Fitzgerald also decided to step away from her position as manager of The Oppenheim Group, a title she's held since Season Five of the series.
"I agreed to do it because I was under the impression that it was going to be more of like, helping with real estate needs and helping with deals and stuff like that, not mediating drama," she confessed.
"So, when I got pregnant, I just decided that it's not worth it. These ladies are adults. They're grown, they can handle their own issues or arguments. But for the sake of my health and the baby's health and my family, I decided to focus on my own clients because it did take a lot of time away from me focusing on my own career."
Selling Sunset Season 7 is now streaming on Netflix.