Serena Williams' Husband Pranked Her At Their Baby's Gender Reveal Party
And when the family finally found out the baby's sex, they were all thrilled.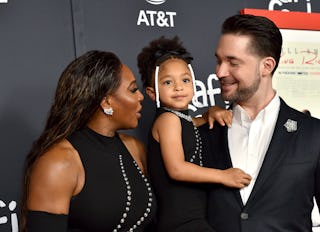 Axelle/Bauer-Griffin/FilmMagic/Getty Images
Tennis GOAT Serena Williams and Reddit co-founder Alexis Ohanian are one of the cutest celebrity couples out there. Husband Alexis is basically Serena's number one fan, and together they seem to be doing an amazing job of raising their five-year-old daughter, Olympia.
And now, after Williams announced that she would be stepping away from tennis in order to grow their family, the couple is expecting a second child together.
This weekend, the couple celebrated their one on the way with what looked like a super-fun gender reveal party. But Alexis isn't beyond having a little fun with his wife and daughter.
In a YouTube video posted to William's channel on Monday, he confessed to the camera that he was going to have his wife cut into a gender reveal cake — only to find out that it is only yellow inside.
"This cake is as basic of a gender reveal idea I could come up with inside. It's yellow," he joked to the camera. "I'm doing this because I want to troll her and Olympia into thinking that this is the reveal. She will cut into this cake and probably be disappointed and hopefully — hopefully — appreciate the troll. But we'll see."
When the family sees the cake is yellow, Olympia does not appreciate her dad's joke and Serena is quick to troll her husband right back, by pretending to smash the slice of cake in his face.
The real actual gender reveal took place shortly afterward, as a fleet of drones lighted up the sky and spelled out, "It's a girl!"
The whole family cheered, with Ohanian shouting, "It's a girl! It's a girl! It's a girl!"
Then Serena and Alexis shared a kiss, with Olympia in her dad's arms.
Earlier in the video, before the party, Serena shared that she was solidly on Team Pink, perhaps because she was raised with sisters.
"I'm nervous because I don't have any contingency plan if it turns out to be a boy," she said in the video before adding, "I'm very excited. I'm a little nervous."
At the party, Williams joyfully hugs friends, and we see that a few important family members, like her dad and former coach, are also present. Colorful arches and bunches of balloons decorated the outdoor area and everyone at food in a large tent or lounged on blankets and pillows on the lawn.
Serena wore a plain white T-shirt and a pink-and-white mini skirt that showed her allegiance — with her pregnant belly peeking through.
Congratulations to the soon-to-be family of four!
Watch the full video of the Serena and Alexis' gender reveal party below.