please let this become a thing
Serena Williams Had A "Pre-Push Party" & It Seems Way Better Than A Baby Shower
Here are all the differences.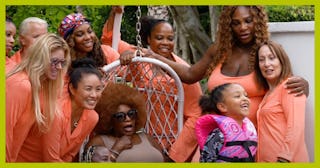 YouTube/Serena Williams
A few weeks after her over-the-top drone-army gender reveal party, tennis GOAT Serena Williams continues to celebrate the impending arrival of her second baby girl. This time, though, she's skipping the traditional baby shower and hoping to start a whole new trend for expecting moms: the pre-push party.
What is a pre-push party?
The Grand Slam champ explained in a YouTube video posted to her channel that it's a time for female friends and family of the expecting mom to relax and be surrounded by love.
"Today we are having an amazing spa day that's been planned by my friends and my sister and it's so fun," Williams says in the video, explaining the event. "Got my nails done, got a facial, got a foot massage."
All around her, women of all ages are getting pampered by specialists as they lounge in chairs and chat. It looks like we catch glimpses of goodie bags filled with samples, and possibly with soft orange matching pajama sets that everyone wears together, including Serena.
"I love spa day [and] to have it at a house is more relaxing and more fun. Great friendships, great champagne if you're drinking it. So you can relax before the baby comes. It's a push party, if that exists. It's a pre-push party," she says.
Daughter Olympia, 5, also got in on the fun — she gets some pampering and then jumps in the pool with friends. Husband and Reddit founder Alexis Ohanian didn't seem present, and neither did any other male family members or friends. It was a girls' event, for sure.
And Serena is totally ready — well, kind of — for Olympia to have a sibling.
"Baby #2 is on the way after lots of time waiting, so how am I feeling about it," Williams says in the video. "Excited, nervous, anxiety, happy, all of the above. We're ready. Actually, we're not ready today. I need another week and I'll have my stuff ready, like the crib, the changing table, a plethora of other things. Mentally ready-ish, I think."
However ready she is, it looked like the pre-push party helped.
"I feel so loved today. Everyone is here, my family's here, we love and relax. This is a pre-push party. I'm coining that phrase."
Watch the full video below.
Differences between pre-push parties and baby showers
At the beginning of the video, you can see a few baby presents, but it doesn't look like they are at the center of the party at all. While baby showers focus on gifts and the coming baby, it feels like pre-push parties are all about relaxing and pampering, both for mom and for all her friends and family. Spa menus, cozy PJ sets for all, snacks, pictures with the mother-to-be, and swimming in the back yard round out the event.
Alternatives to baby showers
Baby showers can be fun, but there are several reasons that some expectant moms want to skip them. First and foremost, some families might have everything that they need for baby, and they don't want a lot of items on top of that, even from well-meaning guests. Parents who already have kids might especially not need to be "showered" with more baby gear.
Other moms-to-be don't want so much attention for a day, or don't like the traditional baby shower activities like guessing games and gift opening.