The "Rumours" Are True! Stevie Nicks Is Getting Her Own Barbie Doll
🎶 You'll never get away from the sound of the Barbie that loves you 🎶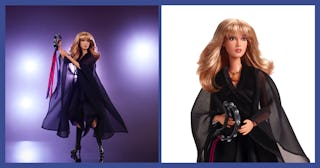 Mattel
We may receive a portion of sales if you purchase a product through a link in this article.
Time to bust our your tambourine and scarves that have been collecting dust and channel your inner rock goddess because there is a new Barbie made in the likeness of former Fleetwood Mac front woman and music legend — Stevie Nicks.
The Nicks doll was unveiled in the Mattel Shop as a Barbie Music Collector doll. The doll dons a classic Nicks flowing black dress and cape along with black platform heel boots and a tambourine adorned with streamers. They even somehow mastered that intense, gorgeous gaze Nicks perfected in the infamous 1997 live performance of "Silver Springs" where I'm pretty sure she put a spell on Lindsey Buckingham.
Mattel says it designed the doll in honor of Nicks' 75th birthday, which was in May.
"Stevie's dress is inspired by her look on the iconic 1977 Fleetwood Mac Rumors album cover," Mattel said in a statement.
"The dress emulates Stevie's spellbinding style with a layered skirt that drapes and swirls like smoke, as its flowing chiffon statement sleeves capture the movement of the outfit. Stevie's bewitching look is complete with her signature blonde hair, full textured bangs and smokey eye, and accessories – golden moon necklace, tall black boots and a tambourine with cascading ribbons."
Nicks —the first woman to have been inducted into the Rock & Roll Hall of fame twice — joins the ranks of other musicians who have been honored in the Barbie Signature Series including Gloria Estevan, David Bowie, Elvis Presley, Elton John, and Tina Turner.
Nicks praised Mattel for the doll in her likeness, saying that the lookalike doll "has [her] heart," thankful that her worries about the doll living up to the spirit and iconic presence were put at east the moment she saw the doll.
"My Stevie @Barbie has been with me now for several months. When Mattel came to me asking if I would like to have a Barbie made in the 'Rumours' cover style I was very overwhelmed. Of course I questioned 'would she look like me? Would she have my spirit? Would she have my heart…'" Nicks wrote in a tweet.
"When I look at her, I see my 27 year old self~ All the memories of walking out on a big stage in that black outfit and those gorgeous boots come rushing back~ and then I see myself now in her face. What we have been through since 1975~ the battles we have fought, the lessons we have learned~ together. I am her and she is me. She absolutely has my heart."
"Thank you Mattel for working with me to make Stevie Barbie so pretty and so soulful and so real; she means the world to me!"
She told USA Today that after her first Fleetwood Mac tour, she contacted a designer, Margi Kent, and drew her a stick figure sketch wearing a handkerchief skirt and platform boots.
"I said to her, 'Margi, I want to wear this when I'm 60 because I know I'll be on stage when I'm 60,' even though I'd been in Fleetwood Mac all of eight months, and she said, 'OK,' and I went back in a week and by the time we did Rumours I had my beautiful black outfit," Nicks recalled.
Nicks — who recently her current North America tour into next year — officially introduced "Stevie Barbie" on stage at New York's Madison Square Garden on Sunday night.
"I hope you all love her as much as I do," she said, holding up the figurine as the crowd cheered.
The Nicks doll, which listed at $55 per doll, sold out on Mattel's website within hours of its preorder release. However, if you really want to get your hands on one, some dolls have emerged on resale markets at almost twice the price.