The 'Teletubbies' Sun Baby Jessica Smith Is Pregnant & Yes, You Are Old
Jess Smith was just 9-months-old when she was cast.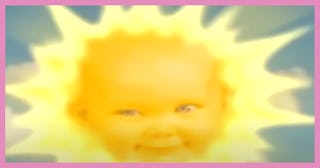 Wild Brain / YouTube
In a full-circle moment, the infamous and kind of creepy Teletubbbies sun baby is having a baby of her own! Yes, that's right! The little baby you used to watch years ago is now having a baby of her own — confirming your suspicions that yes, you are, in fact, spiraling toward death.
Jess Smith — known for playing the sun baby at just nine months old on the original late 90s kids show — is expecting her first baby. She revealed the exciting news on her Instagram with an adorable photo and caption.
Babies having babies!
"When two becomes three," she captioned a strip of ultrasound photos, tagging partner Ricky Latham as well.
Her comments were filled with congratulatory messages from fans feeling nostalgic for the bizarre kids series as well as confirming that yes, we're old AF.
"The Teletubbies sun baby is having her own sun baby," wrote one user, while summed up everyone's feeling with, "Sun baby having a baby...damn I'm old af....congratulations mate."
Smith kept her identity as the infant TV star a secret for much of her life, eventually sharing the news years later. She wanted to put a rest to after years of seeing others claiming to be the infamous Sun Baby.
In a 2014 Facebook message, she wrote:
"So I've recently celebrated my 19th birthday and after a lot of thought, I've decided it's time to tell everyone. I used to hide it, but after a lot of encouragement from my friends at university, I've gained the confidence to come out with it. I am the sun from Teletubbies. There has been quite a few people pretending to be 'the sun,' but only I could tell you the real story. Everyone says they can see the likeness between my face now and me as a baby. I still have a baby face. I haven't changed much either. I am still giggly."
During that time, Smith also shared a letter her parents received from Teletubbies' original production company about her involvement with the show to prove her identity as the sun baby.
According to TMZ, the 27-year-old claims she was cast on the show while being weighed at the hospital, saying producers for the children's series were in the hospital looking for babies to use on the show. She was compensated £250 (less than $400) and a box of toys for her role.
In a 2021 Instagram post, Smith reflected on how much her life had changed since revealing she was, in fact, the sun baby.
"Seven years ago today I posted on my Facebook page finally telling everyone that I was the Sun Baby. A lot has happened since posting coming out with it," she wrote. "I've been to a number of premiers. Taught a dance routine to a group of kids at a screening of the new series. Met a bunch of celebrities. Appeared on lots of recording sets. Been taken to Germany for a TV show. And loads, loads more."
"I am cannot thank everyone enough for the support and guidance I've had through the process. Here's to lots more memories to come 🥂."