The Crown's Sixth & Final Season Finally Has A Release Date — & It's Close
Time to say "goodbye" to the People's Princess... and everyone else.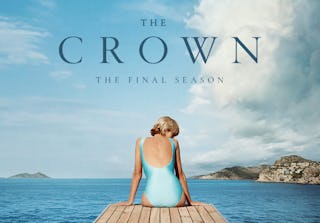 Netflix
If you're an anglophile obsessed with The Crown, there's good news and bad news. The bad news? Netflix just announced that The Crown's sixth and final season will be released in two parts. In other words, prepare yourself for a mid-season cliffhanger! Now, onto the good news: The streamer also announced that The Crown's swan song will arrive sooner than expected.
Like the real-life crown, The Crown has proven to be a dominant force in headlines. Since its 2016 premiere, the series has covered the expanse of intrigue and drama surrounding Britain's royal family. From Queen Elizabeth and Prince Philip's "love story" as young adults to Prince Charles' time in boarding school, showrunners have left no stone unturned. If there were rumors about something, The Crown tackled them.
Even Prince Harry has watched the captivating drama. In 2021, during an interview with James Corden, the Duke of Sussex shared that he viewed and somewhat approved of The Crown. "I'm way more comfortable with The Crown than I am seeing the stories written about my family, or my wife, or myself," he told Corden.
Granted, Harry might feel a wee bit differently with the final season now set to premiere. Season 5 ended just before Princess Diana's tragic death in a car accident caused by paparazzi. As Harry has written and spoken openly about the trauma caused by his mother's death and the subsequent media circus surrounding it, watching it play out again — albeit fictionally — could understandably retrigger that trauma.
Alas, that remains to be seen, and fans of The Crown are already looking forward to the release of the two-parter final season. If you're anxiously awaiting the return of the immersive series, here's what you need to know.
When will The Crown Season 6 premiere?
Despite releasing the sixth and final season in two parts, Netflix isn't pulling the usual "two-part finale" stunt where they make you wait a year between season halves. Instead, the first half of The Crown Season 6 will be released in November, while the second half will be released the following month. To break it down further:
Nov. 16: The Crown Final Season Part 1 (4 episodes)
Dec. 14: The Crown Final Season Part 2 (6 episodes)
What will The Crown's final season be about?
While little information has been leaked, if you keep up even half-heartedly with the comings and goings of the royal family, you should have a good idea of what's in store. The final season will sweep across some big moments for the family. It will, seemingly, begin around the time of Diana's death and, according to Deadline, will end around the time that Prince William and Kate Middleton start seeing each other. It will also touch more on Prince Charles and Camilla's continued relationship.
Who will star in the final season?
There will be a slight casting change-up between Part 1 and Part 2, though most of the casting will stay the same.
Part 1 will star Rufus Kampa and Fflyn Edwards as Princes William and Harry, while Part 2 will change out for slightly older actors, Ed McVey (William) and Luther Ford (Harry). The Kate Middleton character, played by Meg Bellamy, will also debut in this sixth and final season.
Imelda Staunton will continue as Queen Elizabeth II alongside Jonathan Pryce as Prince Philip. Dominic West will also reprise his role as Prince Charles, as will Elizabeth Debicki as Princess Diana, at least for a while. Also returning are Lesley Manville (Princess Margaret), Salim Daw (Mohamed Al Fayed), Khalid Abdalla (Dodi Fayed), Claudia Harrison (Princess Anne), and Olivia Williams (Camilla Parker Bowles).
Are there any sneak peeks of Season 6?
Other than the wedding invite tweeted by Netflix, the streaming service has been tight-lipped about the return of The Crown. They've just dropped this haunting and dramatic trailer with the date announcement.
Featuring Staunton in Queen Elizabeth II's "final form," not much is given away. The queen is clearly stewing on her past and present roles in her country, reflecting on what she's given up to be the figurehead for Britain. But no more is shown.
A few stills featuring Will and Kate from the final season have been released, though, at least giving fans a bit more to mull over.
Are you ready for the final season of The Crown? If previous seasons have taught us anything, it's that no matter what spectacular royal moments the show captures, they'll do it with gentleness.
Based on what information is available so far, you probably won't see the royal weddings of either prince, the birth of the next generation, or the passing of the last. But maybe that's a little "too soon." Plus, there are plenty of Hallmark movies that cover that stuff.