'Bachelor' Alum Tia Booth Is Defending Her Choice To Have A Night Nurse
Booth recognized that it's a "luxury" to have help a couple times a week.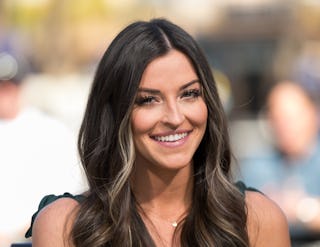 Noel Vasquez/Getty Images Entertainment/Getty Images
Every mom can remember those sleepless, unpredictable nights when you first bring a baby home. There is no rhyme or reason to a sleep schedule, waking up every two hours becomes standard practice, and the circles under your eyes get darker and darker. Those nights are hard times in any parent's life — especially when you're chronically getting little to no sleep.
However, there are people parents can hire to take care of their littles in the middle of the night so you can catch some shut-eye, though they're not cheap. "Bachelor Nation" member Tia Booth opened up about hiring a night nurse a couple times a week so she and her husband could get some solid sleep — and the mom-shamers went to work.
However, Booth wasn't taking any of the heat and quickly defended herself.
The Bachelor alum, 31, shared a judgmental message to her Instagram Stories last week that she received from a follower who called Booth out for having a night nurse, claiming that she wasn't bonding properly with her baby.
"Not trying to be mean, but having a child is taking responsibility and bonding with your baby in the middle of the night when they wake. Not hiring someone to do it for you so you can 'sleep,'" the person wrote.
Booth, who welcomed her first son Tatum with fiancé Taylor Mock in December 2022, acknowledged the "luxury" to have assistance a "few nights" a week while also revealing she had been receiving comments like this that were not as "friendly."
"Got 3 more that weren't as friendly. It's a temporary service that helps us tremendously as first time parents. I've learned so much from these nurses and will never look back and think, 'Damn I wish I wouldn't been more sleep deprived on those nights we had help?'" the reality star captioned the conversation via Instagram Story.
Booth also explains that she is beyond thankful for the service she hired to help during the night, noting that getting that extra sleep has helped her be a better and more present mom especially with no family close by.
"I'm able to be a better mom during the day when I can THINK & know my baby was so loved on & taken care of the night before. I don't have family here. Neither does Taylor. This is our help a few nights a week," she noted.
The reality TV star also posted a photo of her son, requesting that strangers "stop freaking mom-shaming," noting the hypocrisy that comes with society and motherhood.
"Moms, who have once been first time moms, will say 'do what's best for you and your family' then shame you & lose respect for you for needing help," Booth said. "We can only be praised when we're exhausted & doing it all alone??? It's insanity. OK I'm done."
Booth opened up about what her labor and delivery experience was like on the Click Bait With Bachelor Nation podcast which often features former contestants of ABC reality TV shows The Bachelor and The Bachelorette.
Booth started off talking to co-host Joe Amabile about the end of her pregnancy and unexpected moment her water broke. "It was brutal at the end. I was uncomfortable and felt like I couldn't move. I was scheduled for a C-section on December 17 if he didn't come on his own before then, but then, thank goodness, my water broke on its own. I wanted the water breaking to be like the movies, all dramatic, but it wasn't," she said.
Booth shared that she was in labor for about 24 hours but didn't have many contractions. She continued with her online persona as if it was just another day in the life of an influencer, hoping that no one would catch on to the fact that she was actually in labor.
"Labor was technically 24 hours. I went in Monday morning and I didn't have him until Tuesday morning, but I wasn't having contractions, so I had to start that whole process and it took longer. I was even active on social media too! I was posting links. I didn't want to tell anyone that I was in labor. I wanted it to be a surprise," she said.
Tia added that after she got the epidural, she and Mock basically had a "staycation," while they waiting for their son to come into the world, hanging out in the hospital room and binge-watching TV.
"There was a Harry Potter marathon on, so we watched Harry Potter. We also watched a few episodes of 'White Lotus.' It was actually really chill. It's an expensive staycation!" she joked.
While Booth and Mock are still in the knee-deep in the newborn phase, they still do plan to get married within the year.
"We haven't had to do much so far, which is nice. I'm not really in the thick of it yet," the Bachelor season 22 alum told Us Weekly. "We still don't have a venue — don't have it, like, set in stone, but once I have that, then I'll have a date. Then, I can choose vendors and then it'll really get rolling. So fingers crossed it all works out."