LAISSEZ LES BON TEMPS ROULER
Calling All Princess & The Frog Fans! Disney Just Shared Tiana's Gumbo Recipe
It's gumbo season, y'all.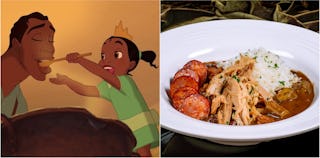 Disney
If you're a Princess and The Frog fan (and who isn't?) or just love authentic New Orleans cuisine, prepare to have the best day ever. Disney just released the recipe for Tiana's gumbo, exactly the same as it's served in Disneyland at Tiana's Palace right in New Orleans Square.
Even if you've never had the pleasure of heading to Anaheim, California, and visiting Tiana's Palace, you should still know you're in for a treat. After all, Tiana's gumbo recipe was so good, it inspired the movie! (That's how it went, right? We love a good story about a rising entrepreneur.) That movie, of course, inspired not only a yummy AF Disney restaurant but also a Disney ride called Tiana's Bayou Adventure.
While Disney released for National Gumbo Day, there's no rule that you only have to make it once a year. After all, gumbo is basically soup, and fall is soup season. The warmth of the seasonings alone will stave off the autumnal chill and keep you toasty right on through winter. What have you got to lose?
What's gumbo?
Simply put, gumbo is a stew. It's wildly popular in Louisiana and believed to have originated there. The ingredients can be tied to several cultures, including African, French, Spanish, and Choctaw (a Native American Nation). Although many etymology and culinary experts have tried to find a concrete reason why gumbo is called "gumbo," no one has an exact history.
What researchers do know, though, is that Louisiana was home to many enslaved people from Central Africa. Many people from that region were kidnapped to America but still spoke Bantu. Even today, okra (often a key ingredient in gumbo) is called "gombo" in Bantu.
What's in gumbo?
A gumbo recipe can not only change from city to city in New Orleans but can also often be as unique to a family as their DNA or fingerprints. There's a New Orleans variation of gumbo that relies heavily on a dark French roux. The Creole variation relies heavily on shellfish. Meanwhile, the Cajun gumbo variation contains shellfish or fowl.
Almost all gumbo relies on some of the same base ingredients. Those include stock, meat or shellfish, thickener, and the Cajun "holy trinity" of celery, onions, and bell peppers. Many recipes will add sausage, too, even with the shellfish or fowl, as it adds another flavor and texture. Gumbo is traditionally served with rice.
What's in Tiana's gumbo?
Looking for an authentic gumbo recipe? You know Disney did their homework on this one. The recipe is undoubtedly built to accommodate all the scattered tastes and preferences of the people who visit, but it's still a classic New Orleans-style gumbo recipe.
Tiana's gumbo recipe seems as absolutely special and delicious as everyone makes it out to be in The Princess and The Frog. Ingredients in Tiana's Gumbo include all the traditional ingredients gumbo fans will expect, but nothing so out of the ordinary that it would turn off gumbo newbies. Her recipe includes:
Mild andouille sausage
Boneless chicken thighs
Cajun seasoning
Cajun holy trinity
Poblano pepper
Worcestershire sauce
Hot sauce
Just like traditional recipes, Tiana's Gumbo base has you start with making a dark roux. It's easier than it sounds. From there, the recipe basically calls for adding ingredients one at a time starting with the ones that take the longest to cook. The recipe is available on Disney Eats and you can get an idea of how it's made by watching the super cute video blog they've made to share the wonders of their gumbo.
Bon appétit, Mon Cher!