TLC Opens Up About Being Working Moms On Tour
Scary Mommy sat down with Chilli and T-Boz to talk about their new documentary, their summer tour, and more.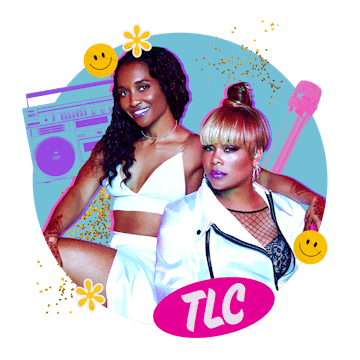 Ariela Basson/Scary Mommy; Dennis Leupold
Most people who are around 40 or so, give or take 10 years, have a special little room in their brain with a special little box that contains nothing but TLC information. This box holds, inexplicably, all of the lyrics to "No Scrubs," "Waterfalls," and "Creep" — and if you're lucky, the lyrics to "Ain't 2 Proud 2 Beg," "Unpretty," and a few other hits, too. Also in the box: All of their most iconic outfits from the 90s, plus the dance from the "Waterfalls" music video, of course.
It's hard not to love the box, and it's easy to see why it exists. The supergroup — which consisted of Rozonda "Chilli" Thomas, Tionne "T-Boz" Watkins, and the late Lisa "Left Eye" Lopes — broke recording records, started huge music and fashion trends, and established themselves as one of the biggest and best acts of the 90s. They also suffered health issues, unfair payment, and tragedy, with the death of Lopes in a car accident in 2002.
Now, more than 20 years after their meteoric rise, Chilli and T-Boz are still making music and still touring. They're also taking a moment to look back on their lives and careers in a new documentary, TLC Forever, which premieres Saturday, June 3, at 8 p.m. ET on Lifetime and A&E.
Watching the two-hour documentary, it was amazing to remember just how talented and revolutionary the group was when they hit the scene in 1991, but also to realize just how much controversy, strife, and challenges the group met head-on. I didn't know, for instance, that the group was deep in debt due to predatory record deals, or that beneath her confident swagger, T-Boz was constantly struggling with the debilitating pain and uncertainty of sickle cell anemia.
I also didn't know what the group accomplished after the early 2000s: a new era, new records, new realizations, and new struggles, like Watkins' brain tumor diagnosis.
Scary Mommy sat down with the pair over the phone to talk about their three-decade-long career, their lives as working moms, and what they are looking forward to now. The pair — who is almost always in complete agreement with each other in a way that is completely adorable — open up about it all while being warm, thoughtful, and real.
Scary Mommy: What do you want fans to take away most from watching your new documentary?
T-Boz: I hope that they take away some life lessons. I hope that the fact that we were being so vulnerable and just sharing our stories and the things we've gone through, that it helps someone in the best way. That's what I hope. And I also hope that they see how resilient our group is because we've been through so, so much and and by the grace of God, we are still, still here today.
SM: How do you feel about your upcoming tour this summer?
Chilli: Performing is like our second home, like that's in our soul, so that that'll never go away from us. That's just something that comes with the artistry we have. That's the part that we love the most.
SM: What songs are you looking forward to performing most?
T-Boz: I'm just excited to be up there, period.
Chilli: Imma have to say that too, because I can't just pick one, you know? And, and we have some really cool routines and we always change it up and you always get something new when you come to see us on tour.
SM: You are both moms. What's your advice for working moms or moms who have big dreams and goals, but who are also raising kids?
Chilli: For me, this is what I did. I mean, my son, this is to this day, even though he's a young adult, he's first in my life, he's priority. And I've even turned down job offers because it would take me away from him too long. When you choose to have children, you just gonna have to understand, you make sacrifices in your life. Maybe some of those dreams you can't get to at that time. You have to put it off because raising them properly and really being there for them is the most important thing.
T-Boz: Our kids come first, you know, God willing. The one thing you don't want is your child to just grow up and think, my mom was never there, you know? Everybody else raised me except for my mom or my parents. I think that would be heartbreaking to hear as a mother.
SM: What has been the hardest part of motherhood?
T-Boz: Leaving my kids like when I go overseas. They usually used to come with me on tour — my son is coming this tour. But overseas, it's grueling for a little kid, so leaving them for that amount of time is hard.
Chilli: And when they hit double digits for me, I had a heart attack, I cried like a baby. It was going by too fast for me. I did not like that. They have to grow up, obviously, but it's just hard for me. I wish I could freeze him at eight or nine.
SM: T-Boz, did you say your kids are coming with you on tour this summer?
T-Boz: Yes they are! My daughter does our makeup and my son is seven. My family being on the road — it keeps me happier.
SM: The documentary covers your health struggles. It's amazing to see how much you've done even when you were feeling really, really ill. Do you have any advice for people who are living with chronic illness?
T-Boz: You have to learn your body. You're your best advocate. And I think patients don't realize how much control they have with doctors because doctors aren't God, you know what I mean? And it's very important to find a doctor with good bedside manner that works for you and your health. But you're the person that has to convey to them what's going on with your body to help them understand.
If that doctor doesn't make you feel good, go find another until you one that works for you.
SM: Your group was one of the first to really focus on female empowerment within your songs and to just send messages to people, like normalizing safe sex, for example. It seems like all artists are doing this now. What battles are you fighting today and what messages do you wanna send to the public?
Chilli: Because of the way social media has taken over, I would really want people to listen to "Unpretty." I would really want them to listen to the lyrics because that song to me is so timeless. It's definitely what's going on right now.
SM: Are you revisiting nineties style now that it's coming back into fashion?
T-Boz: Fashion always comes back around and you can't talk about the nineties without bringing up TLC clothes, you know? We represented nineties fashion, you know what I'm saying? So it just fits right in for us. We've never stopped our TLC style. It's always been ours.
SM: What are you listening to right now and who are your favorite artists?
T-Boz: It's not that I don't like anybody now, but, you know, it's just not like how it used to be when you had Madonna, Janet, Michael.
Chilli: Chloe Bailey, Victoria Monét. I love her. Her pen is incredible. She writes a lot for Ariana Grande. I love her singles. I really like her a lot. I, I think she's one of my favorite right now. She just came out with a new single called "Party Girls." It's cool.
SM: What are you looking forward to working on next?
Chilli: Well besides the documentary we are getting ready our Hot Summer Nights tour that starts June 1st through July 15th. And we are getting further along in our musical! We're just waiting on that last little piece.
SM: I feel like millions and millions and millions of people know eight or 10 of your hit songs. Is there a song out there that you wish people knew more? One that we should all put on our summer mixes this year?
Chilli: Oh, definitely. "Case of the Fake People." And, oh my gosh, we have this song called "So, So Dumb." It's so good.
T-Boz: I would say the same thing!
SM: You two constantly agree with each other!
Chilli: We've been together a long time!
T-Boz: We've definitely worn off on each other, that's for sure.
This interview was edited for length and clarity.