Jenna Ortega Say Wednesday Season 2 Will Have Less Romance And More Horror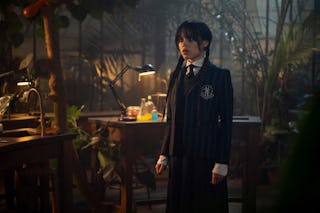 Vlad Cioplea/Netflix © 2022
We're slowly getting more and more information about what Season 2 of Wednesday is going to be like, and it's hard not to get excited. According to the latest tidbit from titular star Jenna Ortega, it's good news for those who like jump scares and bad news for those who like love triangles.
Ortega sat down with fellow actor Elle Fanning for Variety, when conversation turned to Season 2 of the Netflix smash hit.
"We've decided we want to lean into the horror aspect of the show a little bit more," she told Fanning. "Because it is so lighthearted, and a show like this with vampires and werewolves and superpowers, you don't want to take yourself too seriously."
Couldn't agree more.
"We're ditching any romantic love interest for Wednesday, which is really great," she added, killing any chance of more sparks flying between Xavier Thorpe (played by Percy Hynes White) or anyone else, it sounds like.
This news make those of us who don't see Wednesday as the boy crazy type want to do the viral Wednesday dance. Although those of us who enjoy watching Wednesday with our kids might be concerned about the level of violence or darker themes moving forward.
What else do we know about the Addams Family spinoff, other than that it has officially been renewed for Season 2?
Another big piece of news is that Ortega will be a producer on the show for the first time.
"It was a natural progression," she told fanning. "With a character like Wednesday, who is so beloved, I didn't want to get her wrong. So I tried to have as many conversations as possible with the writers. We'd decide what works and what doesn't. In preparation for a second season, we wanted to make sure that we could start the conversations earlier. I'm just so curious: I want to see the outfits, new characters, scripts."
There are also rumors that Ortega is juggling goth roles and Tim Burton projects by also grabbing a starring role in the Beetlejuice 2.
The second season was officially announced on Jan. 6, 2023, when Netflix confirmed another installment is coming by dropping a video mashup of Season 1 clips, fan videos, and a new Wednesday voiceover.
It's little wonder the show got picked up for more episodes, considering it scored the second biggest week of streaming ever recorded by Neilsen — second only to Stranger Things Season 4. In its first five days alone, Wednesday accrued almost 6 billion watched minutes.
Co-creators Alfred Gough and Miles Millar recently admitted in an interview with Empire, as per ScreenRant, that they are hopeful for the show's future and already have kicked around some ideas of where the characters' storylines could go beyond the first season. "Miles and I are talking amongst ourselves about it," Gough teased. "There's definitely more that you can explore in the world of the Addamses." In fact, they told Variety that they've batted around enough storylines to fill out "at least three or four seasons' worth."
So, fans should remain optimistic for more Addams Family goodness to come. In the meantime, we've got the first season to watch (and rewatch) — and the following details about Season 2 to chew on.
Who will appear in the series?
Ortega will clearly return as the main star, but it's safe to assume most of the all-star cast will return. That includes Catherine Zeta-Jones as Wednesday's mother, Morticia Addams, Luis Guzmán as the Addams family patriarch, Gomez, Fred Armisen will as Uncle Fester, and Isaac Ordonez as Wednesday's little brother, Pugsley.
Less certain to return are some of Season 1's exceptional guest stars. Game of Thrones star Gwendoline Christie played Nevermore Academy's principal, Larissa Weems, who still held a grudge against her former classmate Morticia. But, erm, that didn't exactly end well for her.
Then, of course, Ricci made her grand return to the franchise, though in a very different role. She portrayed one of Wednesday's school teachers at Nevermore Academy.
Other stars we could expect to reprise their roles in Wednesday Season 2 are:
Riki Lindhome as Dr. Valeria Kinbott
Jamie McShane as Sheriff Donovan Galpin
Hunter Doohan as Tyler Galpin
Percy Hynes White as Xavier Thorpe
Emma Myers as Enid Sinclair
Moosa Mostafa as Eugene Otinger
Joy Sunday as Bianca Barclay
Georgie Farmer as Ajax Petropolus
Naomi J. Ogawa as Yoko Tanaka
Victor Dorobantu as Thing
George Burcea as Lurch
How many episodes are there?
The first season totals eight episodes, so it stands to reason that Season 2 will have at least that many episodes. Millar and Gough are eager for fans to meet this new version of the Addams family. They insist that, while it centers around familiar (read: iconic) characters, it serves as its own entity in the Addams Family universe.
"That's something that was very important to the show — that it didn't feel like a remake or a reboot," Millar explained to Vanity Fair in August 2022. " It's something that lives within the Venn diagram of what happened before, but it's its own thing. It's not trying to be the movies or the '60s TV show. That was very important to us and very important to Tim [Burton]."
Any spoilers yet?
Alas, it's too early for spoilers at this point. However, Ortega hinted to Entertainment Tonight that she's hoping things get even twistier moving forward.
"I kind of want her to be darker. I want her to get more in the nitty-gritty of things and not play things so safe, because there are a lot of lines about her saving the school and doing whatever, but for me, her main drive with the monster is of a competitiveness. Kind of, 'Man, how's this guy doing this?'" she told the outlet, adding, "I think I want it to continue down an antihero stream rather than a typical hero."
In other words, fans can at least take heart in knowing that the experience — regardless of how long it lasts — will prove to be a darkly fun and entertaining ride.
This article was originally published on