Will You Return For Season 5? Penn Badgley Hints At The Show's Future
Joe's stalking days may be coming to a close sooner than you'd think.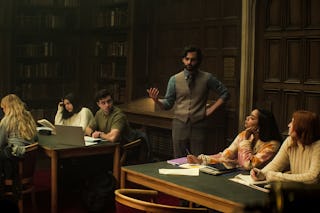 Netflix
Despite what he himself would argue, Joe Goldberg isn't a good guy. And while viewers have come to love watching Joe get himself in and out (and back in) trouble again and again, his days of stalking and killing have to come to an end eventually… but when? You Season 4 Part 2 is set to debut on Netflix on March 9 and will find Joe facing off against this Eat the Rich Killer once more. One can assume that America's favorite stalker will find a way to make it out of this situation alive, but if that's the case, one can't help but wonder what it could possibly mean for the show's future. Will You return for a fifth season, or has Joe's story finally run its course?
As of now, Netflix has yet to officially announce a Season 5 renewal for the series, but fans shouldn't get too worried about a cancellation just yet. Upon its Feb. 9 release, Part 1 of Season 4 soared to No. 1 in the Netflix Top 10 English TV List that week with 92.07 million hours viewed, as per Variety. Those are some impressive statistics that Netflix higher-ups will be sure to take into account when determining what to do. Bottom line, though: This series is extremely popular, which means it's probably only a matter of time until the streaming service makes things official by greenlighting a fifth season.
That being said, several people closely tied to the show have recently hinted about their own desires for the show and where they think things will go from here.
Showrunner Sera Gamble Has High Hopes For The Show's Return
While speaking on The Hollywood Reporter's TV podcast TV's Top 5, Gamble revealed that she already has a plan for where a fifth season story arc would go. "We have an idea for season five that we're excited about," she hinted. "It was never anyone's intention to run this one into the ground. When we're done, we'll be done. And we'll pack it up." As you would expect, the decision of when to quit begins and ends with Joe. "The beautiful thing about it is that when his arc is complete, so is the show," she added.
But, thankfully, that day is still a ways off in the future. So if Gamble has it her way, Joe will live to stalk another day.
Penn Badgley Thinks Season 5 Could Be Its Last
On the plus side, Badgley believes a fifth season is definitely in the cards. However, he also recently teased during an interview with Happy Sad Confused that the show may only have one more season left in it — or two, at the most, considering his six-year contract will be up.
"I signed a six-year contract right out the gate. So they could do two more if they wanted," he shared back in February. "I think if there's another season, I think it's only going to be one. I think — this is my understanding, but I don't know, I really don't know. But I know that everybody concerned, from the top on down, nobody wants this show to become tired."
It makes sense that Badgley doesn't want the show to continue if it doesn't add any value to the characters or the story. He seems very proud of the series and doesn't want the quality to diminish just for the sake of making more seasons. But as long as the writers keep coming up with creative and interesting storylines, Badgley is open to the idea of sticking around for a couple more seasons, at least. Just think of everything Joe could get up to in that amount of time.
Even more promising? You author Caroline Kepnes has a new novel, For You and Only You, on the way. Told from Joe's point of view, it hits bookshelves on April 25, 2023, which means there could be plenty more for the series to draw on for Season 5 (and beyond).
Our bet is that, once again, Joe will move to a new place, take on a new identity, and murder a lot of people.
You Season 4 Part 2 hits Netflix on March 9.