10 Stunning Free Printable Coloring Pages For Adults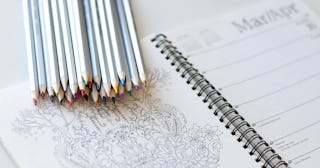 J. Kelly Brito/Unsplash
Admit it: When the first adult coloring books started hitting shelves, you probably scoffed. First, you're chasing babes, barely keeping up with your household chores, and possibly working full-time. The idea of sitting down and coloring was downright laughable. Second, if you did have time to embark on a hobby, it would be one of the many things you miss doing from your pre-mommyhood days. Several years later, however, the trend of free printable coloring pages for adults might seem a little less ludicrous and a bit more, well, relaxing. Someone may have even given you a fun adult coloring book as a gift — during a stressful time or just for fun for when you need to lay back and chill out.
Turns out, that coloring book proved to be fairly relaxing and definitely fun. Now that you're into the full swing of motherhood, you might have a little more time than you previously thought. Coloring might be a better option than scrolling Instagram and Pinterest. Pulling out some adult coloring pages can be something you do at the table while your kid colors their own coloring pages. You can even use it as a way to encourage your wild thing to sit down and practice staying inside the lines.
Here's the thing that sucks about adult coloring books, though: They're way more expensive than your kids' books! The solution? Free, printable coloring pages for adults. So fire up your printer, because we whipped up some mama-friendly coloring pages just for you.
Free Printable Coloring Pages for Adults
1. Crown
You've always wanted a crown! Well, now ya got one — and you can decorate it any way you'd like. Want it to be bejeweled with deep green emeralds? Go for it. We highly recommend printing out multiple copies and distributing them to your best friends, who would obviously be part of your royal court.
2. – 3. Flowers
You don't have to have a green thumb to make these coloring pages blossom! Thank goodness, right? Not all of us were born with a proclivity for cultivating a gorgeous garden. Fortunately, these flowers don't even require watering — and they don't have thorns, either.
4. Heart
Is your heart spoken for? Or are you waiting for something to come along that makes it race? Hey, maybe you fall for all sorts of things every day. No matter what the case is when it comes to your romantic life, you can pour your feelings into this intricate coloring page. 'Cause let's be real, the inner-workings of the heart are pretty darn complex, too.
5. Fruit
You know what they say: An apple away keeps the doctor away. So, if you spend some time filling in this fruity page, you shouldn't have to visit the doctor for quite some time. Kind of makes you wish you really could take a bite, huh?
6. Dragon
If we could, we'd imbue this dragon coloring page with the ability to breathe fire — because it is hot, hot, hot. It's probably a good thing we can't, though, since we wouldn't want you to scorch your colored pencils (or, you know, fingers). You'll just have to imagine smoke billowing from his nostrils as you fill in the between the lines!
7. – 10. Mandalas
Call us predictable, but one of our favorite adult coloring forms is the mandala. It's practically impossible not to feel zen when you sit down and space out over one of these beauties. And because we care for your state of mind so much, we're giving you four. That's just the kind of friends we are.
Coloring Pages for Adults You Can Buy
Scary Mommy Shop
We'd obviously be remiss not to mention the fact that the Scary Mommy shop offers a beautiful adult coloring book perfectly suited to all the Scary Mommies out there. What's it called? "Calm Your Tits." Because, hell yes.
This article was originally published on