16 Stunning (And Spooky) Halloween Cake Ideas And Recipes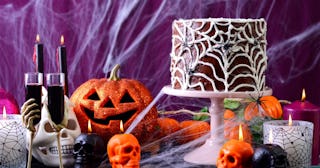 MillefloreImages/Getty
At this point, we realize that it's cliche to talk about how much you love the coziness of the fall season, but can we just say, it's like that for a reason? After such a hot, sticky summer, the cooler air is so refreshing and, honestly, even makes everyday tasks better. For instance, if you were someone who really got into baking during quarantine, you may have found that you needed to give it up over the summer because of how hot it made your kitchen. But now it's autumn, bitches, so fire up those Kitchen Aid stand mixers you insisted on putting on your registry, and get ready to do some baking!
With Halloween shenanigans approaching, there's no better time to try your hand at making realistic 3D Halloween cakes. In fact, they're perfect for a season of all things spooky and sweet. If you're not sure where to start, here are some ideas and recipes for some stunning Halloween confections that you can actually make at home.
Sweet (and Spooky) Halloween Cakes
1. Upside Down Bat Cake
If you've ever had an actual bat get into your house, you know it is neither fun nor festive, regardless of the time of year. But that doesn't mean you can't bake one! Make it as friendly or scary as you'd like.
2. Pumpkin Cake
If you're new to making 3D cakes, might we suggest starting with the humble pumpkin? You'll still have all the fun (and challenges) of working in three dimensions, but the round shape will be a little simpler than a creature with multiple appendages. Check out this recipe for a vanilla cake covered in orange fondant shaped like a pumpkin. Bonus: you get to carve it, but the insides of this version are much less gross.
3. Haunted House Cake
If you've made a gingerbread house before, why not try its Halloween equivalent? This is another case of being able to keep the cake relatively simple (if you want) or going all-out like this 3D haunted house cake from Martha Stewart. Hot tip for Trader Joe's fans: They sell Halloween gingerbread haunted house kits every fall!
4. Coffin Cake
https://www.instagram.com/p/Ba6LkzrD1ng/?utm_source=ig_web_copy_link
Will everyone be a fan of a cake that looks like a coffin? Probably not. But what better way to stick it to death and acknowledge our own mortality than by digging into a 3D Halloween cake in the shape of someone's eternal resting place?
5. Monster Cake
Monsters come in all different shapes and sizes, so even if you sort of mess up a monster 3D cake, you can always say that that's how the monster is supposed to look. It's a win-win for everyone. Or, give this recipe for a kooky monster 3D Halloween cake a whirl.
6. Spider Cake
If you're not ready to take on a monster, you can always make a 3D Halloween cake in the shape of a spider. This one is also on the simpler side, only requiring some sort of round-ish cake component, and then sticking eight objects that can double as appendages on the sides. Here's a video tutorial to get you started.
7. Ghost Cake
Sure, some ghosts can be scary, but others like Casper the Friendly Ghost and the one featured in this 3D Halloween cake are more cute than creepy. But be warned: a ghost costume might be easy to put together, but this cake is on the trickier side.
8. Skull Cake
https://www.instagram.com/p/86r1VIgX_h/?utm_source=ig_web_copy_link
Technically, we all walk around with skulls all day, every day, so this 3D skull cake doesn't necessarily have to be limited to Halloween time. Skulls give you the opportunity to play around with shape and texture, like the bumpy version above.
9. Jack Skellington Cake
If you're a fan of the class movie, "The Nightmare Before Christmas," you probably won't resist attempting this 3D Jack Skellington cake. The one featured in this tutorial somehow manages to look both terrifying and delicious.
10. Frankenstein Cake
OK, fine, yes, it's a "Frankenstein's monster" cake, but whatever you call it, this 3D Halloween cake is sure to please everyone in the family. Plus, it's on the easier end of the spectrum if you're new to all of this, or running short on time, but still want something super impressive.
11. Witch Unicorn Cake
What, exactly, is a witch unicorn? Who knows, but it's a combination that kids will be very into. This 3D Halloween cake tutorial will walk you through the steps of this weird (but cute!) one.
12. Zombie Cake
https://www.instagram.com/p/Bplepq0HphS/?utm_source=ig_web_copy_link
If you're a pro at 3D cake decoration, you may be interested in trying one with plenty of gory details.
13. Orange and Black Cake
If you're looking for something simple and chic that still gives off spooky vibes, this orange and black "drip" cake could be for you.
14. Spider Cake
What's more on-brand for Halloween than spiders? You can add these creepy, crawly arachnids to your confections in a ton of different ways, whether you're going for elegant or terrifying.
15. Matte Black
Can you be in love with a cake? 'Cause we're totally swooning over this matte black beauty! The flower trail is a nice contrast to the dark icing and skull toppers.
16. Bleeding Skulls Cake
https://www.tiktok.com/@maggies.sweet.tooth/video/7003820168300219653?is_from_webapp=1&sender_device=pc&web_id7015579488039224837
We've never wanted so badly to eat something so terrifying! Bonus: In addition to looking incredible, this cake seems as though it involves minimal steps.
This article was originally published on