105 Spooky Halloween Quotes And Sayings That'll Delight Your Dark Heart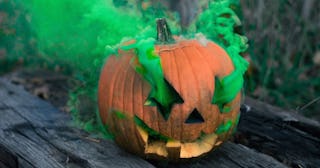 Colton Sturgeon/Unsplash
Everyone loves Christmas, but how many people can say they love Halloween? Honestly, probably more than you realize. If you're a fan of all things Halloween, don't feel alone. According to one study, nine percent of Americans say Halloween is their favorite holiday. While that may not seem like a very large percentage, there are other ways to look at it. For instance, in terms of ranking the holidays, Halloween ranks third after Christmas (of course) and Thanksgiving. Of course, why we choose to love Halloween probably varies a lot depending on the person. Some people are into the blood, gore, and horror aspect. Others just love the feel of being officially ushered into Autumn and cooler weather. (Or maybe just the cool decor.) And, of course, our kids just love the Halloween costumes and candy. (We love the candy, too.)
Whatever your reason for loving Halloween, one thing is undeniable: There's a lot to love. We scoured the internet and found some famous quotes related to our frightful favorite holiday. Some are an ode to the holiday itself and others just fit that scary vibe. Feel free to steal these for any Halloween decor… or even just your social media status update!
RELATED: 70+ Boo-rific Halloween Jokes And Riddles For Kids And Ghosts Alike
Short Halloween Quotes
"Halloween is an opportunity to be really creative." — Comedian Julie Gold
"Double, double toil and trouble. Fire burn and cauldron bubble." — Shakespeare
"By the pricking of my thumbs, something wicked this way comes." — Shakespeare
"Hell is empty and all the devils are here." — Shakespeare
"We make up horrors to help us cope with the real ones." — Stephen King
"It's as much fun to scare as to be scared." — Vincent Price
"Where there is no imagination, there is no horror." — Sir Arthur Conan Doyle
"Every day is Halloween isn't it? For some of us." — Tim Burton
"Believe nothing you hear, and only one half that you see." — Edgar Allan Poe
"Shadows mutter, mist replies; darkness purrs as midnight sighs." — Rusty Fischer
"We have had our summer evenings, now for October eves!" — Humbert Wolfe
"There is something haunting in the light of the moon." – Joseph Conrad
"When the witches went waltzing." – Linda Williams
"I put a spell on you because you're mine." — Jay Hawkins
"There is magic in the night when pumpkins glow by moonlight." — Unknown
"A mask tells us more than a face." — Oscar Wilde
"Trick or treat, bag of sweets, ghosts are walking down the street." — Unknown
"On Halloween, you get to become anything you want to be." — Ava Dellaira
"October was always the least dependable of months… full of ghosts and shadows." — Joy Fielding
"Darkness falls across the land, the Midnight Hour is close at hand." – Rodney Lynn Temperton
RELATED: 27 Fun And Spooky Halloween Party Games That Are AHHH-Mazing
Book, TV, & Movie Halloween Quotes
"I'm the ghost with the most, babe." – Betelgeuse, Beetlejuice
"Magic is really very simple, all you've got to do is want something and then let yourself have it." — Aggie Cromwell, Halloweentown
"Be afraid. Be very afraid." — Ronnie, The Fly
"Villainy wears many masks, none so dangerous as the mask of virtue." — Ichabod Crane, Sleepy Hollow
"I'm so glad I live in a world where there are Octobers." — L.M. Montgomery, Anne of Green Gables
"I'm a homicidal maniac, they look just like everyone else." — Wednesday, The Addams Family
"Oh, look, another glorious morning. Makes me sick!" — Winifred Sanderson, Hocus Pocus
"A person should always choose a costume which is in direct contrast to her own personality." — Lucy Van Pelt, It's the Great Pumpkin, Charlie Brown
"It's Halloween. Everyone is entitled to one good scare." – Brackett, Halloween
"I would like, if I may, to take you on a strange journey." — The Criminologist, The Rocky Horror Picture Show
"I'm a master of fright and a demon of light, and I'll scare you right out of your pants." — Jack Skellington, The Nightmare Before Christmas
"This is Halloween, this is Halloween. Pumpkins scream in the dead of night." — Pumpkins, The Nightmare Before Christmas
"It's all just a bunch of hocus pocus!" — Max, Hocus Pocus
"I'll stop wearing black when they make a darker color." — Wednesday Addams, The Addams Family
"Find the thing that must be read, lest your heart be filled with dread." — Madame Leota, The Haunted Mansion
"I've seen enough horror movies to know that any weirdo wearing a mask is never friendly." — Elizabeth, Friday the 13th Part VI: Jason Lives
"There is something at work in my soul which I do not understand." — Mary Shelley, Frankenstein
"Do you believe in destiny? That even the powers of time can be altered for a single purpose?" — Bram Stoker, Dracula
"I'm guessing Angela's the one in the neighborhood who gives the trick-or-treaters some toothbrushes. Pennies. Walnuts." —Pam Beasley, The Office
"It's easier to dismiss ghosts in the daylight." — Patricia Briggs, Dragon Bones
"I'm wicked through and through." — Elphaba, Wicked
"'Fear,' the doctor said, 'is the relinquishment of logic, the willing relinquishing of reasonable patterns. We yield to it or we fight it, but we cannot meet it halfway.'" — Shirley Jackson, The Haunting of Hill House
"My darling girl, when are you going to realize that being normal is not necessarily a virtue? It rather denotes a lack of courage." — Aunt Frances, Practical Magic
"I see dead people." — The Sixth Sense
"I'm a mouse, duh." — Mean Girls
"Use iodized salt to ward off witches, zombies, and old boyfriends." — Hocus Pocus
"Don't torture yourself, Gomez. That's my job." — Morticia, The Addams Family
"Isn't the view beautiful? It takes my breath away. Well, it would if I had any." — Emily, Corpse Bride
"One, two, Red's calling for you. Three, four, better lock your door. Five, six, grab your crucifix. Seven, eight, gonna stay up late. Nine, ten, never sleep again." — Children, Nightmare on Elm Street
"Sometimes the world of the living gets mixed up with the world of the dead." — Mrs. Mills, The Others
"Haven't you noticed how nothing in this house seems to move until you look away and then you just… catch something out of the corner of your eye?" — Theodora, The Haunting
"I'm gonna eat your brains and gain your knowledge." — Dr. William Block, Planet Terror
"That's not because there are most ghosts here than other places, mind you. It's just that people who live here about are strangely aware of them. You see, day and night, year in, year out, they listen to the pound and stir of the waves. There's life and death in that restless sound. And eternity too." — Roderick Fitzgerald, The Uninvited
"When there's no more room in hell, the dead will walk the earth." — Televangelist, Dawn of the Dead
"These eyes will deceive you; they will destroy you. They will take from you, your innocence, your pride, and eventually your soul. These eyes do not see what you and I see. Behind these eyes one finds only blackness, the absence of light, these are of a psychopath." — Dr. Samuel Loomis, Halloween (2007)
Funny Halloween Quotes
"Nothing on Earth so beautiful as the final haul on Halloween night." — Steve Almond
"Some people are born for Halloween, and some are just counting the days until Christmas." – Stephen Graham Jones
"The universe is full of magical things patiently waiting for our wits to grow sharper." — Eden Phillpots
"For a witch, you certainly don't know much about how hauntings work." — Colleen Houck
"Halloween was confusing. All my life, my parents said, 'Never take candy from strangers.' And then they dressed me up and said, 'Go beg for it.' I didn't know what to do! I'd knock on people's doors and go, 'Trick or treat… no thank you.'" — Rita Rudner
"My Halloween costume is Godot. I'm not showing up at the party, just texting the host every 10 minutes that I'm on my way." — Wynne McLaughlin
"There is nothing funny about Halloween. This sarcastic festival reflects, rather, an infernal demand for revenge by children on the adult world." — Jean Baudrillard
"If I'm lazy and I can't come up with a costume, I would just wear a slip and write 'Freudian' on it." — Julia Stiles
"Last Halloween was bad for me… I got beat up. I went to a party dressed as a piñata." — Jim Samuels
"For Halloween, I've decided the easiest thing to do is give up caffeine. If that doesn't scare the hell out of everyone around me, nothing will." — Unknown
RELATED: 35+ Side-Splitting Thanksgiving Jokes You'll Gobble Up More Than Turkey
Inspirational Halloween Quotes
"The farther we've gotten from the magic and mystery of our past, the more we've come to need Halloween." — Paula Curan
"The first time I called myself a 'witch' was the most magical moment of my life." — Margot Adler
"On Halloween, witches come true. Wild ghosts escape from dreams. Each monster dances in the park." — Nick Gordon
"The moon has awoken with the sleep of the sun, the light has been broken; the spell has begun." — Midgard Morningstar
"Anyone could see that the wind was a special wind this night, and the darkness took on a special feel because it was All Hallows' Eve." — Ray Bradbury
"Halloween is not only about putting on a costume, but it's about finding the imagination and costume within ourselves." — Elvis Duran
"I love Halloween, and I love that feeling: the cold air, the spooky dangers lurking around the corner." — Evan Peters
"When witches go riding, and black cats are seen, the moon laughs and whispers, 'tis near Halloween." — Unknown
"Shadows of a thousand years rise again unseen, voices whisper in the trees, 'Tonight is Halloween!'" — Dexter Kozen
"Oh how the candles will be lit and the wood of worm burn in a fiery dust. For on all Hallows Eve will the spirits come to play, and only the fruit of thy womb will satisfy their endless roaming." — Solange Nicole
"There is a child in every one of us who is still a trick-or-treater looking for a brightly lit front porch." — Robert Brault
"Halloween wraps fear in innocence, as though it were a slightly sour sweet. Let terror, then, be turned into a treat." — Nicholas Gordon
"The world turned upside down — in a good way — for one black velvet night." — Karen Fortunati
"Halloween is a celebration of the inversion of reality and a necessary Gothic hat-tip to the darker aspects of life, death, and ourselves." — Stewart Stafford
"The oldest and strongest emotion of mankind is fear, and the oldest and strongest kind of fear is fear of the unknown." — H.P. Lovecraft
Halloween Quotes for Instagram
Creepin' it real.
Who run the world? Ghouls.
If you've got it, haunt it!
Fangs for the memories.
#SquadGhouls
New face, who 'dis?
Ghouls just want to have fun.
This witch likes wine.
Eat, drink, and be scary.
Pumpkin spice and everything nice.
Bad to the bones.
#BooCrew
Resting witch face.
Out for a coffin break.
I've been ready for Halloween since last Halloween.
I'm here for the boos.
Boo-tylicious.
Not all witches live in Salem.
Enough with the boo-sheet.
Bad and boo-jee.
Witch better have my candy.
It's the most spook-tacular time of the year.
Pick your poison.
My blood type is pumpkin spice.
Thick thighs and spooky vibes.
This article was originally published on