How To Write A Best Man Speech That Will Elicit Laughs And Not Groans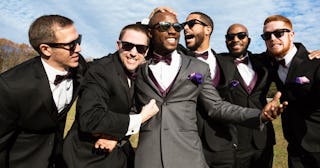 Roberto Westbrook/Getty
You're the best man, so you're probably feeling yourself right now. You were chosen to stand up for one of the closest people in your life, so that's a pretty awesome feeling! While being the best man has a lot of fun things to do — like planning the bachelor party, and generally being the life of the party throughout the wedding events — you also have the distinct honor of delivering the best man speech. Even if you're one of the few people who actually likes public speaking, it's perfectly understandable if you're feeling nervous about it. After all, it's a pivotal moment of the reception, so it's definitely something that's worth planning and working on as soon as possible. If you need a little help to get you started, here are some must-do tips on how to write a best man speech.
1. Plan Ahead
This isn't something to leave until the last minute. Maybe you don't necessarily need to start planning your best man speech the second you're christened with the honor, you should start outlining it a couple of months before. With all the pre-wedding events that will come, you'll be happy that you gave yourself a head start.
2. Start Off With a Bang
A great speech always leads with a killer intro. What you consider "killer" is, of course, up to you. Maybe it's a funny line that sums up how you feel about the groom and/or his relationship with the bride. Maybe it's an anecdote that expresses gratitude. Whatever it is, make it personal to you.
3. Introduce Yourself and Your Connection to the Groom
Who are you? How did you meet the groom? Describe your relationship, including your first meeting and how your friendship has evolved over the years. Point out your favorite qualities about the groom and provide personal stories that exemplify them. If he's a generous guy, how has he helped you out in the past? If he's always been super organized, talk about an instance in which he helped you organize your apartment.
Related: How To Write Memorable Wedding Vows Without Stressing Before The Big Day
4. Talk About the Groom's Connection and Relationship to the Bride
As a close friend or family member of the groom, you have inside knowledge of the relationship between the groom and his bride. This is your opportunity to spill the tea. What was the first thing the groom told you about the bride? When did you know that he fell hard for her? Provide personal stories that provide insight into their love story. How was it when you met her for the first time? How have you seen their relationship grow? How has the groom grown as a result of the relationship? If you can think of a story from when the groom knew his bride was "the One," then share that. Basically, you want to emphasize the evolution of their relationship and how special their connection has been to witness as a trusted loved one.
5. Be funny — Sparingly
Yes, it's totally okay to be funny. No one likes a droning boring speech. But it's important to be strategic with your jokes and funny anecdotes. After all, your speech shouldn't be an excuse to practice your standup comedy routine. Also, it's a good idea to stay away from anything that could be potentially offensive. Some light teasing is okay, but you definitely don't want to put the groom, or anyone else for that matter, in a bad light.
6. Finish Your Speech with a Toast
As you wrap up your speech, this is a good time to share any meaningful quotes or poems that you find significant for the groom and bride before you offer your gratitude for being the best man and your sincerest congratulations to the couple. Then offer a toast and ask the fellow guest to raise their glasses. You're done!
In terms of length, a best man's speech shouldn't be longer than seven or eight minutes. Any longer, and people will start getting antsy. Don't forget to write your speech down and practice in front of others. You might even want to record yourself on your phone and send it to your friends. Be open to feedback. Go over your speech the night before the big day and definitely take it with you. While it doesn't hurt to memorize your speech, it's not a must. Above everything, relax and have fun with it. You'll do great!
Related: 100+ Wedding Jokes That Will Make You The Toast Of The Ceremony
This article was originally published on