Ice Cream Coloring Pages That'll Keep The Fam Super-Cool This Season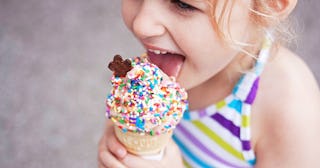 Getty Images
Is there anything in this world that's better than ice cream? Ice cream may be a summer staple, but it's a popular dessert year-round. It comes in so many flavors, and many companies — like Ben & Jerry's — are still coming out with crazy combinations you've never heard of (Strawberry Topped Tart, anyone?). Ice cream is just plain fun. And that means it makes quite a compelling subject to color. If you're having a bad day, ice cream coloring pages can utilize a ton of cool colors sure to cheer you up.
Ice cream coloring pages are also a sweet way to celebrate the warmer weather ahead. And if you happen to be off sugary treats? Maybe these pages are all you need to quench that desire for a big bowl of Rocky Road. Eh, who are we kidding? These scrumptious printables may be a blast, but they're no substitute for the real thing! Still, they will keep kids busy when other quintessential summer experiences, like a trip to the beach, are out of the question.
Coloring, in general, gives you a chance to spend some quality time with your pint-sized artist. Here are 10 ice cream coloring pages to delight you and your family.
Free Ice Cream Coloring Pages
Ice Cream No. 1
What's sweeter than a scoop of ice cream? Easy — three scoops of ice cream. These three would look extra-enticing colored differently. You can do the standard chocolate, strawberry, and vanilla. Or maybe you want to mix it up. We'd make one of these scoops a delicious mint chocolate chip.
Ice Cream No. 2
Or, maybe you prefer a banana split? In 1776, the first ice cream parlor opened in New York, and in the 1880s the ice cream sundae was born! This decadent dessert will look oh-so-tasty when colored. The layers add a little bit of an extra challenge to the coloring page, but it's nothing a beginner artist couldn't tackle.
Ice Cream No. 3
Are you a fan of ice cream cones? Of course you are. Who isn't? You'll be a big fan of this page, which looks wildly delicious. If you happen to have markers that add extra shine or sparkle, feel free to use one on the cherry to make this cone even more dynamic. And if you love vanilla, here's a fun fact for you: Vanilla is the most popular flavor, while chocolate syrup is the leading ice cream topping. Also, most of the vanilla used to make ice cream is from Madagascar and Indonesia. Who knew?
Ice Cream No. 4
If you're looking for a project that might kill some time, this ice cream could be just what you need. It would look incredible if you tried to shade it in and make it a real treasure. Even if you made this ice cream vanilla, though, some soft yellows would give it a ton of definition.
Ice Cream No. 5
Nobody likes drippy ice cream, but at least there are plenty of scoops available. Did you know the tallest ice cream cone was made in Italy? It was nine feet tall. Why not try making the textured scoop on the left of this towering (but not quite nine-feet-tall) scoop a delicious cookie dough? Light brown colors to accent the chips would make it look even more realistic.
Ice Cream No. 6
This interpretation is a bit more basic but can be the perfect printable if you want to experiment with more adventurous colors (AKA "flavors"). Dreaming of gray, black, and white ice cream? Maybe this page can help you fully envision that chic treat. And speaking of scoops, do you know how many licks it takes to finish a scoop of ice cream? The answer is 50.
Ice Cream No. 7
Ready for another challenging ice cream coloring page? This one has a lot to offer. Just check out the strawberry on the right-hand side and the straw on the left! This dessert basically begs to be decorated with a burst of different colors and turned into a mouth-watering masterpiece.
Ice Cream No. 8
Ice cream is enjoyed best with friends by your side. This page even includes a tiny stuffed bear. And while he's unable to enjoy an ice cream by himself, watching his buds enjoy it seems to be good enough for him.
Ice Cream No. 9
That said, you don't always need friends to enjoy ice cream. This innocent drawing may remind you of growing up when getting ice cream from the truck was a big deal. But can you guess which country loves ice cream the most? Americans eat the most ice cream, Australia comes in second, and then Norway. The fact that 87 percent of Americans have ice cream in their freezer at any given time gives a pretty good indication that this creamy treat is beloved in the U.S.
Ice Cream No. 10
Searching for a bit of magic in your ice cream coloring pages? This one's for you. Look closely, and you can see that the ice cream is essentially just a beautiful unicorn. Using soft, pastel colors on this would make it feel even more ephemeral. But the drawing itself is so clever that any combination of colors is sure to work.
Ice Cream No. 11
You can color a million flavors in this picture. In Japan, they offer out-of-this-world flavors like horseflesh, octopus, and even shrimp. (Hey, don't knock it till you try it.) And here's an even sweeter fact. British ice cream trucks are only allowed to ring their handbell between noon and 7 p.m. so they don't disturb the neighborhood.
Click here to print all of the ice cream coloring pages at once!
This article was originally published on