Kristen Bell Shares The 'Most Annoying' Thing About Dax Shepard's Advice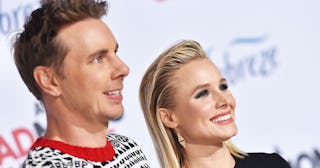 Axelle/Bauer-Griffin/FilmMagic/Getty
Kristen Bell says Dax Shepard first encouraged her to be open about her mental health
I think I speak for a lot of people when I say that the reason Kristen Bell and her husband Dax Shepard are a cool and interesting couple is because they are so refreshingly honest. From being truthful about what parenting in a pandemic has been like to their hilariously deranged Instagram videos (like the time Shepard bought a literal safe to keep his wife from stealing his nail clippers), these two keep it really real. But it wasn't always that way. Bell said the reason she started sharing her most authentic self with the public is because Shepard suggested she talk more openly about her mental health in interviews and once she did, it changed everything. Now Bell jokes that Shepard's suggestion turning out to be so on-the-money is actually the "most annoying" thing about him.
During the Tuesday, December 15th episode of Backstory with Jason Bentley, the host Adam Grant asked Bell why she's so invested in being open and honest with her fans and followers, to which Bell said it's because it gives her "peace of mind with my own authenticity," though she remembers a time where she was more interested in "presenting this bubbly individual" than being her most authentic self.
She said that many years ago she was worried about an upcoming interview because she feared she had nothing to talk about. This is when her husband suggested she open up about to the interviewer about her experience with anxiety and depression.
"And I was like, 'Have I never talked about that before?' and then immediately felt weird like I shouldn't because I was in a mindset back then that I should be more presentational," Kristen said. "Again, allowing the sort of culture to dictate what I was presenting, which I don't do anymore. I don't abide by that."
"I realized I had been presenting this bubbly individual and it just wasn't the full story," Bell elaborated. "It didn't have the dimension and I felt this sickening wave of fraudulence and inauthenticity and I went on and I brought it up."
So she got real in that interview and now that's how she approaches everything, from interviews to Instagram posts, though Bell jokes that she can't stand how "right" Shepard was with that instinct.
"This is what I say is the most annoying part of my husband. He's almost always right. When I say almost always, I mean like really almost always. It's so annoying," Bell joked.
"I'm going to start being who I want to be on my death bed," she said she realized then. "I want to be the person who talks honestly and says, 'I get what I present to you is not always the case.' If you're feeling that too, just know that I'm right there with you."
I can't imagine a time when Bell and Shepard weren't the grounded and transparent couple we know today. Keep on keepin' on guys, we appreciate the rawness, the honesty, and the laughs.