Kylie Jenner Says 3-Year-Old Stormi Is About To Launch Her Own Brand
by Christina Marfice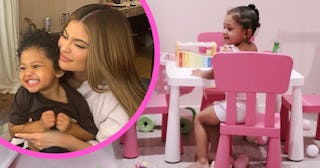 Kylie Jenner/Instagram and Kylie Jenner/Youtube
Stormi, the tiny business lady that she is, has her own office and will be launching her own brand "imminently"
Kylie Jenner has been criticized on more than one occasion for the way she spends lavishly on clothes, accessories, and parties for her now three-year-old daughter, Stormi. But if you ask us, the youngest Jenner is doing a perfectly fine job as a mom, and if there were ever any proof, it's the newest video she just released on her YouTube channel.
The video is all about Jenner's journey toward relaunching her makeup brand, Kylie Cosmetics, after reformulating the products to make all of them vegan. But it's little Stormi who steals the show, as viewers are treated to footage of her basically running the place at the Kylie Cosmetics offices. At one point, mini businesswoman Stormi even allows the cameras into her own office.
"She has her own office where she gets all her business done," Jenner tells the camera as Stormi shows off her desk saying, "And I work right here."
Jenner continued to reveal that Stormi is actually about to follow in her famous mom's footsteps and launch a brand of her own.
"She's actually launching a little secret brand soon," Jenner said. "We've been working on it for a while, but finally it's pedal to the metal."
Really, it's no wonder that at three years old, Stormi is already eyeing a future as an entrepreneur. Here's how Jenner explained it: "I think you're a product of who you surround yourself with. My sisters and my mom have been huge influences on me, and have really shaped me into who I am. Stormi has such strong women — and men — in her life, but she has a lot of strong women to look up to."
https://www.instagram.com/p/CIi9gzWnsQX/
If that ain't the truth. The Kardashians take a lot of flack, but you can't deny their hustle and resulting success. Those women know how to be moguls, and they're clearly passing that knowledge on to the next generation. Later in the video, Kylie Cosmetics' Chief Commercial Officer even joked that everyone in the company will one day "be working for Stormi."
There's no word yet on what this "secret brand" is that Stormi is launching, but fans immediately started speculating that it's related to Kylie Baby, a company Jenner hinted at on her Instagram back in June.
https://www.instagram.com/p/CPn3BMBHH9F/
Whatever it is, we can't wait to see this tiny business lady at work.
This article was originally published on