Can Sex Tech Rev Up Your Sex Life? Why A Sexpert Says It's The New "Hot Thing"
Welcome to the future (of your orgasms).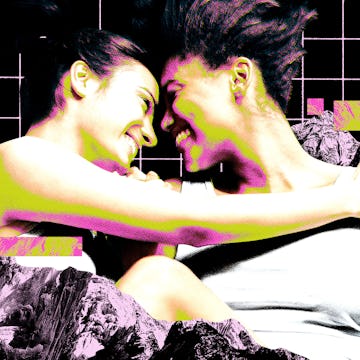 Ariela Basson/Scary Mommy; Getty Images, Shutterstock
Welcome to the future, where artificial intelligence (AI) is taking over everything from chatbots to fridges to Seinfeld parody accounts — and now our bedrooms. According to the latest trends, soon it might be super normal to explore our sexual identity and intimacy through the help of some high-sex tech.
According to Angie Rowntree, founder and director of Sssh.com, the award-winning site of sex-positive, ethical porn made from a woman's point of view, AI is the new "hot thing" in the world at large, "and sexual wellness itself is a booming industry that is projected to reach $112 billion by 2030.
"When you combine the two, it is only logical that you are going to see continuing innovation and expansion in this realm," she says. "In terms of sexual wellness, AI is an emerging field with many potential applications. In the broadest terms, though, it seems likely that AI is ultimately going to increase and intensify the level of personalization of one's experience with whatever AI-driven platforms or products."
Additionally, Rowntree says AI can be used in the pursuit of sexual pleasure, including a number of integrative pleasure products, apps, or other ways to modify and/or enhance your sexual pleasure that you can explore solo or with a partner.
What are some examples of AI in the sex toy industry?
When it comes to enhancing pleasure, Rowntree says sex toys, in particular, are potentially very useful mediums for AI, "especially as an AI toy could anticipate 'patterns' that would bring you to pleasure faster — or allow for a slower build-up with a more intense orgasm."
She recommends the work Lioness is doing in the pleasure products sector, including creating a vibrator and an app with biofeedback technology and AI that allows you to see real data and "visualize" your arousal. "This is not only a great way to enjoy pleasure, but you can actually learn more about your own orgasmic process as well," Rowntree explains.
She notes that when exploring AI sex toys, it's essential to realize that every toy manufacturer will differ in the benefits they aim to deliver. "However, it is definitely exciting to see toys being made that can not only lead to greater pleasure but also more empowerment for the user; the more you learn about yourself, the more you can really take control of your pleasure," she says, adding for partners, "It's exciting to think that AI toys could shed light on the 'orgasm gap' or even the unintentional gaps in communication."
In other words, if you or your partner struggle to articulate your needs, there might be an AI toy that shows you data on your own pleasure, which can give you more clarity and confidence.
What's a good way for someone to utilize AI in their sexual exploration?
If you're curious about exploring AI to enhance your pleasure, Rowntree suggests going forth with equal parts caution and curiosity. "There's plenty to learn from AI and definitely some wonderful practical aspects of it (i.e., a toy that 'learns your body' and 'knows' how to satisfy you) that can lead to plenty of fun and satisfaction," she says. "That said, user privacy concerns and other ethical issues continue to drive debates about the use of AI, and unfortunately, technology does not tend to wait while ethics catches up."
Will AI replace human-to-human contact altogether?
It's the question on everyone's mind: Will robots replace us? And if so, what does that mean for our sex life with the emergence of AI technology?
"AI can 'emulate' many elements and sensations that bring pleasure and orgasms, but no — there's no replicating or replacing warm flesh-and-blood humans or the nuances of intimate contact," Rowntree says. "And as much as we love Data from Star Trek, we don't see AI-driven sex robots emerging on a wide scale as substitutes for intimacy with another human."
Additionally, she notes that while AI apps for sexual wellness, therapy, or sex coaching can be useful, "obtaining the help of a licensed real-life therapist or physician is absolutely invaluable and should not be substituted."
Rowntree also points out that it's also important to realize "that even the most advanced AI is still only as smart as the scientists and coders who train it, so there are always going to be limits as a matter of course." And speaking of limits, according to Rowntree, sex tech and AI products, in general, have mostly been made by men for male consumers, which means that many products might not be all that pleasurable for a woman. But Rowntree says, "This is definitely changing now with so many female founders creating products and services for women. Will the future be female? Or will women at least get an equal share of the fun? Stay tuned!"