The Satisfier Pro Will Blow Your Mind (Trust Me)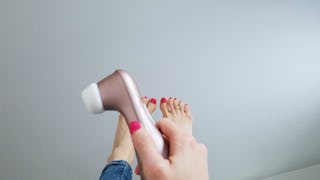 KBS
So, I've heard about this new clit stick: the Satisfier Pro 2 Next Generation. It simulates oral sex and probably got its name because you feel like you are in another land in exactly 2 minutes and it's fucking glorious. I realize I could have gently lulled you in, piqued your curiosity, teased you a bit, then let you know how life-changing this new taco-tickler is, but why waste your time? Touchless air suction sex toys like this have been getting a lot of attention lately (it's even a big chunk of Amazon's best belling vibrators), and even the experts agree that the effect it has is just different — in the BEST way. So grab that lube, your favorite Literotica novel, and get ready to have your mind blown ladies.
"These sex toys give really focused stimulation to the clitoris, and this is a really efficient (and pleasurable!) way to achieve orgasm," says Carol Queen, a Good Vibrations Sexologist. "In our goodvibes.com product reviews, lots of users talk about how much easier it is to come using these toys (and sometimes also that their orgasm is much faster and/or stronger)."
Queen also adds, "Some users who have found their sensitivity changing due to menopause find these toys especially good." So, basically what we're both saying is that you need an air sucking sex toy in your life, and I love the Satisfier Pro. And because I'm a fan of helping my friends who have a clitoris out, I wanted you to know as soon as fucking possible that this is a must-have, and I'm gonna tell you why.
Hold off on trying those new sex positions with your partner, because this will be way more fun. Ahead you'll find my full review of the Satisfier Pro, and if you read a little further, you'll see some awesome alternatives and similar vibrators too!
First, can we talk about the suction this fucker has? It's a vacuum for your vag and this is one Hoover you are going want to handle every damn day. And if you are really aching to know if it simulates oral sex, YES, YES, YES it fucking does. And I mean that in the When Harry Met Sally sense of the word.
Oh, and P.S.: don't forget to use the silky silicone on your nips, too. Come to think of it, I need another one because I like to multitask. One for my boobs, one for my pearl and I'm set. (It can even be considered as a gift for your boyfriend if he's into trying new things, so why don't we just get three.)
Second, while reading the directions on how to give my tumbleweed a tangle, it says once you have turned the toy on, free your clitoris from your precious labia, and place the oval head where you know it's going to make you tingle in all the right places, then you won't need to move the toy again.
Like, at all.
Well, I'm here to tell you (3 orgasms later), that's exactly right. We are talking multiple orgasms, people. Without moving your body, you will climax your way into feeling invincible. In fact, I cleaned the bathrooms and painted my ceilings after my first go-round with this pussy pleaser.
But please note: the directions also warn to start on lowest volume and I advise you to listen to that unless your goal is to have your vittles extra tender. I was a bit anxious and went for it, but quickly changed my mind to enjoy the pre-orgasm phase which I find exhilarating.
It won't be long though, and you will want to ramp her up to one of her other 11 levels.
I know, 11.
I find it's nice to speed up for a spell, ramp back down for a sec, then accelerate again until you don't want to let up on the gas because you are so damn primed to get yours. It's mind-blowing.
Lastly, I'll tell you this — this is the only toy you need in your tickle trunk. I have maybe 5 toys for my love button and this one will frost your cake like no other.
It's relatively small, is the perfect shade of blush (it's the little things, folks), multiple orgasms happen (it's also the big things), and people with a vagina who have had trouble orgasming swear by it.
Thought I would never have another orgasm in my life because I take medication that prevents me from it. I had used the best corded Wand 'Massager' on the market and it got to where it did nothing but make me numb and the head got very hot. So, this was my last hope. It has been 2 and 1/2 years without being able to have an orgasm. I was nervous that all the reviews would not help in my case. I WAS WRONG !!! — Amazon Review
Ok. Real talk. I NEVER write reviews. But it was reviews I read that led me to purchase this mystical device and now I feel like I have to share to encourage others. I have always had an incredibly difficult time reaching completion. Sometimes it can take my hours with high tech vibes and even then no guarantees. In top of what is already a difficult thing for me I'm also on some meds that kill sex drive. Fast forward to this device: I swear to all that is holy I finished two, TWO, back to back O's in under 20 minutes. Which for me is a GD miracle. I cried and then decided to write this review. — Amazon Review
One of the best parts is it's under $50. I have vibes that cost over $250 and this one blows (or sucks?) them all outta the park.
What are you waiting for? If you are a person with a clit, this is a legit toy for you.
Other Top Rated Air Suction Vibrators
Looking for more options that do the same trick? Check out these best selling air sucking sex toys! From the famously (and hilariously) reviewed Tracy's Dog Pro, to the Womanizer vibrators. There's no doubt that you'll find something to help you to the finish line.
Now, if you'll excuse me I've got some vacuuming to do.
This article was originally published on