12 Toddler Cash Register Toys That Will Keep Them Cashing-In For Hours
We only recommend products we love and that we think you will, too. We may receive a portion of sales from products purchased from this article, which was written by our Commerce team.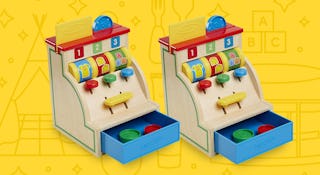 Cha-ching! You've got to spend money to make money — or at least you have to spend money to count money as far as your toddler is concerned. Watching your little one play out your weekly grocery run is only made better when they have a trusty toy cash register at the ready. But today's selection of kid cash register toys may have more to offer than the broken keyboard and cardboard box that you remember from your childhood. New options range from fully loaded toys that sing (perhaps they can accompany your toddler guitar?), count, and basically recreate the self-checkout aisle on a small scale (there are even some that appeal to us mamas with more minimalist sensibilities).
However adorable you may find a kid cash register, they're practically a toddler playtime essential. Developing skills like counting, color identification, and a general affinity for credit cards only gets more fun when you bring imaginative interactive play to the mix — and the lessons about money aren't bad either. Opt for more elaborate sets that include a working calculator and a "realistic grocery experience" or keep things simple with a built in abacus and felt dollar bills. Whatever toy cash register you choose is destined to become part of your kid's playtime routine for years to come. Maybe now, they'll be of help when you hit the market for the milk your partner always forgets? (which may be our biggest pet peeve) A mom can dream, right?
Best Old School Cash Register
Best Realistic Cash Register
Best Fantasy Cash Register
Most Durable Cash Register
Best Minimalist Cash Register
Best High-End Toy Register
Best Shopping Experience
Best Toy Cash Register for Your Home Decor
Most Sturdy Cash Register
Best Count Along Cash Register
Now that you've cashed in on some of our favorite registers, check out some other amazing kids toys.
This article was originally published on