The Most Flattering Women's One-Piece Swimsuits — 2022 Best Swimsuit Guide
We only recommend products we love and that we think you will, too. We may receive a portion of sales from products purchased from this article, which was written by our Commerce team.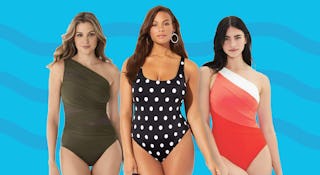 This coming swim season, we want to be ready with the most flattering one-piece swimsuits out there (we have been stuck inside wearing yoga pants for a year, after all). This time around there will still be plenty of fun in the sun—and in the pool—to be had, and that means now is the time to start searching out the most flattering swimsuits to wear this summer. We know it can be tricky finding a bathing suit that feels comfy, looks cute, and fits securely enough to allow you to focus on mom duties: That's why we've taken it upon ourselves to help out.
When you're a mom, bathing suit shopping isn't just about hunting down the most flattering swimsuit for your bod (or about finding the cheapest swimsuit). Whether you have a baby on your hip, are bent over/chasing a toddler, or diving into the pool with your big kids, having a suit that's supportive and stays put is just as important as style—perhaps even more so.
But that doesn't mean you can't have it all when it comes to a swimsuit: There are plenty of options available that meld fashion, function, and figure flattery. Matronly "mom bathing suits?" Not here. We scoured the internet—you might say we did a "deep dive"— to come up with the best, most flattering swimsuits for every mama whether she needs rashguard swim or plus size. From a chic one-shoulder suit that looks good on everyone to a bikini that's perfect for big boobs, there's a swim style (or several) to suit you.
Best One-Piece Swimsuit
Best Slimming Swimsuit
Best Swimsuit for Big Boobs
Best Rash Guard One-Piece Swimsuit
Best Reversible Swimsuit
Best Swimsuit Back
Best Swimsuit During Pregnancy
Best Post-Partum Swimsuit
Best Holiday Weekend Swimsuit
Best Stay-Put Swimsuit
Best One-Shoulder Swimsuit
Best Under $50 Swimsuit
Best Minimalist Swimsuit
Best Swimsuits on Sale
Found the best swimsuit for you? Shop more summer fashion essentials to complete your warm-weather wardrobe!