Summer's Best "Accessory"
10 Zesty Trader Joe's Condiments That Put Ketchup & Mustard To Shame
It's grilling season, people!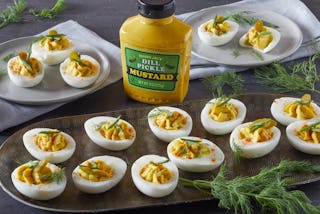 We love ketchup and mustard as much as the next person, but this summer, we're looking forward to upgrading our shelf of basic condiments to dressings and sauces that are more extravagant in flavor, texture, and color. In addition to these new Trader Joe's summer products, limited edition condiments are taking over the dressing and sauce aisle at TJ's right now.
The Strawberry Basil Vinaigrette is well on its way to becoming a salad staple, thanks to its burst of fruity flavor and herbal undertone. Our taste buds are begging for a caprese salad doused in it. For grilled meats and veggies, our eyes are hooked on TJ's Carolina Gold Barbecue Sauce, Peri Peri Sauce, and Chimichurri Sauce.
TJ's has a wide array of zesty condiments to dress up salads, slaws, and pasta salads, too. From flank steaks and grilled fish to treasured classics like hot dogs, hamburgers, and bratwursts, pair your fave BBQ dish with one of these flavorful TJ's condiments below.
Carolina Gold Barbecue Sauce
If you prefer your BBQ sauce to lean on the sweeter side, pick up a bottle of TJ's fan-beloved Carolina Gold Barbecue Sauce. The sweet and tangy condiment (made up of yellow mustard, smoky molasses, vinegar, tomato puree, and Worcestershire, plus cayenne pepper) makes an excellent glaze for grilled meats, especially chicken wings.
Aioli Garlic Mustard Sauce
Here are two ingredients we bet you didn't think would make a delicious pair: garlic and mustard. This garlicky cream tastes divine on burgers, grilled chicken, salads, and even fries. The Aioli Garlic Mustard Sauce can be a great introduction (or prank!) for someone who typically steers clear of mustard condiments.
Strawberry Basil Vinaigrette
Meet the *it* salad dressing of the season: TJ's Strawberry Basil Vinaigrette. It's equal parts sweet, herby, and tangy — and sure to blow your taste buds away. If it were up to us, we would drizzle the fruity dressing on a bed of spring mix greens with fresh strawberries, goat or feta cheese, walnuts, red onions, maybe some cucumbers, too, and if you're feeling crazy, grilled shrimp.
Jalapeño Sauce
A new vegan sauce to Trader Joe's, the Jalapeño Sauce goes well with steak nachos or grilled chicken quesadillas. TJ's claims the sauce is "hot without being overwhelmingly spicy," so those who like mild salsa or tomatillo salsa verde may get a kick (see what I did there?) out of this version.
Green Goddess Salad Dressing
Salads are a summertime staple. They're easy-peasy, can be whipped up in a flash with minimal ingredients, and are a great way to use up random ingredients lying around your kitchen. However, the tricky part is finding a basic dressing that can pair nicely with pretty much anything. That's where TJ's Green Goddess Salad Dressing comes in. The herbal concoction is made with avocados, fresh herbs, and seasonings such as green onions and garlic. As the picture above suggests, you can also use it with cold pasta salads.
Peri Peri Sauce
Dubbed a "once-sauce-fits-all condiment," TJ's Peri Peri Sauce features fermented chilies, dried chili flakes, lemon juice, and garlic. Suffice it to say, it's tangy, sour, earthy, maybe a little nutty, and definitely a kick of heat. You'll have guests begging to know your secret ingredient: It's Peri Peri Sauce! Enjoy it with chicken, fish, roasted veggies, tacos, or fried rice.
Organic Sriracha & Roasted Garlic BBQ Sauce
Made with all organic ingredients, drizzle TJ's spicy, garlicky BBQ sauce goes well on meat and veggie kabobs, ribs, pulled pork sliders... even nachos. The condiment marries the heat of sriracha sauce with the smoky, bold flavors of BBQ sauce, add a few cloves of garlic, and you've got a finger-lickin' good sauce.
Dill Pickle Mustard
You've heard of dill mustard, but have you heard of Dill PICKLE Mustard?! The TJ's condiment, which hit shelves for the first time last summer, features real pieces of chopped-up pickles. Since its 2022 debut, Dill Pickle Mustard has become a barbecue staple among TJ's patrons, with many adding it to hamburgers, hot dogs, and other grilled meats.
Organic Toasted Sesame Dressing
Perfect for cold foods (think sandwiches, salads, pasta salads, and slaws), TJ's Organic Toasted Sesame Dressing has been cold-pressed and cold-filtered to upkeep its full-bodied sesame flavor. The versatile dressing also includes black sesame seeds because you can never have enough sesame, right?
Chimichurri Sauce
If the grill is your best friend during the summer months, you need to keep TJ's Chimichurri Sauce on standby. The savory herb condiment tastes best with red meat, especially flank steak and carne asada tacos. It has a crazy amount of herbs and seasonings (parsley, cilantro, garlic, dried cumin, and crushed red pepper, to name a few) puréed together to create one silky smooth mixture.