10 Con Artist Shows & Movies Based On True Stories That Will Blow Your Mind
The craftiest of con artists and the most elaborate heists for your binge-watching guilty pleasure.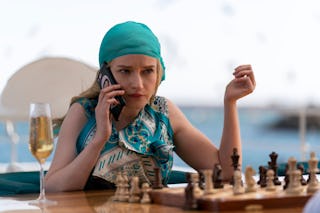 Aaron Epstein/Netflix © 2021
Sometimes we all want to watch something that shocks us, but some people just aren't the biggest fans of horror movies. OK, it's me — I am some people. While others look over their shoulders in their dark living room, scaredy cats like me need a good binge that keeps us on our toes without giving us nightmares. Sorry Stranger Things, but even your latest season is a bit too dark for my liking, and (sadly) Lifetime's holiday lineup isn't out all year long. So, what do you do when you're too put off by thrillers but need something more mischievous than a comedy? You binge-watch con artist TV shows and movies instead.
There's a surprising wealth of riches in this genre: true stories that cover the greatest heists in history, accidental criminals who made counterfeit coupons, and a festival that sold out and never happened. Or maybe you spend the weekend glued to the couch watching a docuseries of a con man who steals from women on Tinder.
They say the truth is stranger than fiction, and watching people pull off such mind-boggling scams feels like validation. With that said, here are 10 of my favorite con artist tales that will have you shaking your head in disbelief, asking, "How? Just... how?!"