Costco Just Released A 4-Pound Lemon Meringue Cheesecake
Here's everything you need to know about it.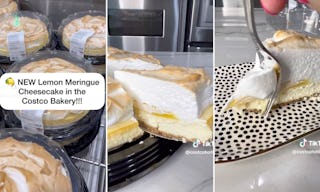 TikTok / @CostcoHotFinds
Tie a bib around your neck and grab a fork in each hand, because Costco's bakery is conspiring against all of your plans to not eat an entire pie by yourself this week.
Everyone's favorite wholesale club just released a brand-new dessert, and it's a doozie. One of the must-follow Costco accounts, @CostcoHotFinds, reports that lemon meringue cheesecake pies are now available at the bakery. I have never heard of putting meringue on cheesecake before, and honestly I feel pretty sheepish about it now.
The pies cost $19.99 and weigh in at four pounds each. I'm no mathematician, but that comes down to $5 for a full pound of dessert.
Down in the comments, everyone wanted a slice... or more.
"Omg I'm on my way there first thing in the am," one person wrote.
"Best one ever," another person wrote.
"My blood sugar went through the roof just looking at it."
There's no word yet on when or if these pies will be available at Costcos in Canada or the U.K., but maybe you could look at airfare and plan a trip?
A few brave TikTokers have already taste-tested the treat, and they're giving rave reviews. Mom and daughter pair Costco Mamma and Maddie took a bullet for science by trying it out for themselves.
While they were initially disappointed that the pie's layers — meringue, lemon custard, cheesecake, and graham cracker crust — were not fused together to keep the pie's shape intact during serving, they were wowed by the overall taste.
"I don't care if it doesn't stay together, this is amazing," the mom said. "You can really taste the lemon, but the creaminess of the cheesecake, and the graham cracker crust! It's making my eyes tear."
This is the best thing to happen to people who love both Costco and pies since the store dropped their 5-pound chocolate peanut butter pie in March. I'm still jogging that one off, honestly, but it was all worth it.