Greta Gerwig Explains The Hysterical Last Line Of 'Barbie'
The film's director and co-writer gets real about why it's just so damn funny.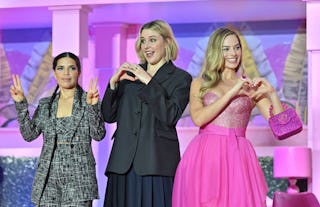 JUNG YEON-JE/AFP/Getty Images
If you happened to catch the "Barbie" movie this weekend — and it seems like a lot of us did — chances are you left the theater chuckling over the film's funny but totally unexpected last scene.
NOTE: SPOILERS AHEAD!
To recap: The film closes on Mattel employee Gloria (played by America Ferrera) and her daughter, Sasha (played by Ariana Greenblatt), dropping Barbie (aka Margot Robbie) off at a nondescript office building in the real world. Is it a job interview? Nope, turns out, Barbie's just like the rest of us and is off to see her gynecologist.
It's a fun twist for the viewer, and, as someone who laughed out loud when I saw it, it's a line tailor made for grown women who know the insanity that is the gyno. And in an interview with USA Today, Gerwig opened up about why she chose to end the movie this way.
"With this film, it was important for me that everything operated on at least two levels," Gerwig told the outlet. "I knew I wanted to end on a mic drop kind of joke, but I also find it very emotional. When I was a teenage girl, I remember growing up and being embarrassed about my body, and just feeling ashamed in a way that I couldn't even describe. It felt like everything had to be hidden."
Of course Gerwig found a way to turn that teenage pain into a learning moment for future generations, and a salve for those of us who felt the same.
"And then to see Margot as Barbie, with this big old smile on her face, saying what she says at the end with such happiness and joy," she added. "I was like, if I can give girls that feeling of, 'Barbie does it, too' – that's both funny and emotional. There are so many things like that throughout the movie. It was always about looking for the levity and the heart."
It's all part of a lovely ending for a surprisingly touching movie, one that isn't exactly suitable for young kids (they just won't get it yet!). In the lead up to the film's release, Gerwig also spoke about the ending sequence, and the importance of the montage including people important to the film's development.
TL;DR: Run, don't walk to see this movie.
More about "Barbie":
This Mom Painted Stretch Marks On Her Daughter's Barbie Doll To Normalize Real Bodies
20 Barbie-Inspired Names To Embrace The Barbiecore Trend