PSA, Parents: Melissa & Doug Toys Are Up To 80% Off For Prime Day
BRB, buying all the things ¯\_(ツ)_/¯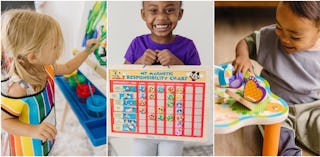 Melissa & Doug/Amazon
We may receive a portion of sales if you purchase a product through a link in this article.
If you're a parent, you already know the chokehold the popular kids' brand Melissa & Doug has on you and your child. Their iconic wooden toys are fun and durable. They're so tough, in fact, that you probably have a fair share you bought second-hand or that family and friends passed along to you when their kids outgrew them. They stand the test of time (and toddlerhood). Bonus: They do it all with the purpose of being both entertaining and educational — every box or crate comes with ideas on how to use them to teach multiple real-life skills. The only "problem" with Melissa & Doug toys is that paying full price for them can do a number on your budget. Luckily, they're on mega sale right now, thanks to Prime Day.
Anyone else consider this time of year the kick-off point for holiday shopping? Well, get ready, because Amazon's Prime Day has come locked and loaded with deals so good you can grab everything you need for under the tree in one fell swoop. There are the best Melissa & Doug deals during Prime Day.
A Play Food Set for Your Kiddo's Living Room Supermarket
At 57% off, this Grocery Store accessory set is a no-brainer for any kiddo who likes playing with the cash register, enjoys shopping, or just needs a new way to play with their buckets and buckets of play food. It literally has everything you need to play "grocery store" with or without their Freestanding Wooden Fresh Mart Grocery Store.
DIY Car Kits for Your Little Gearhead
Got a kid who loves using tools or "fixing" cars? Maybe a budding Scout troop leader? Look no further than this trio of build-the-vehicle kits to satisfy their inner mechanic.
An Enviable Art Supplies Kit
Whether you're working with the official Melissa & Doug easel or not, their easel accessory kit is a game changer for arts and crafts time. It comes with hard-to-spill paint cups, paint refills, brushes, and everything else you need to encourage your little Monet or Picasso... or Jackson Pollock.
The Sweetest Faux Treats Set
Not only does this faux frozen treats set constitute "more play food," it's also a great skill-building set. It comes with order cards where your kiddos have to put together the correct items to fulfill the order. In other words, they're learning how to follow directions.
The Activity Table of Your "Wild" Toddler's Dreams
If your little bug isn't quite ready for full pretend play, but you're looking for a way to keep them up and busy, Melissa & Doug's Jungle Activity Table is always a good bet. It's just like the ones you used to play with at the doctor's office, minus the lead paint. It's currently 54% off, so you get it at a steal but will still look oh-so-generous when you pass it on to another mom friend.
The Best Deal On DIY Beads You'll Find All Year
These bead sets usually run $15.99 each, but they're $10.99 for both in this Prime Exclusive. What little kid doesn't love making bracelets and necklaces for their family members? With 250-ish beads, you'll keep 'em busy for hours.
A Game-Puzzle Hybrid You'll Want to Play, Too
Part game, part puzzle, the Spy, Find, & Rescue toy is like those magnetic fishing games, but with a Paw Patrol rescue mission theme. What little kid doesn't want to help the pups save the day?
A Cool Magnetized Chart to Help Teach Responsibility
If you're trying to introduce or reinforce a little more responsibility in your child's life, let Melissa & Doug — plus Disney — help. This magnetic responsibility chart featuring Mickey and friends tracks good behavior ("show respect") and chores ("clear table").
There's more where these came from! With prices this low, you don't have to stress about blowing your budget when you stock up on all the Melissa & Doug Prime Day deals.