10 Easy, Adorable, & Inclusive Mother's Day Crafts That Kids Can Make For Mom
Courtesy of the #TeachersOfTikTok, whose creativity never fails to amaze.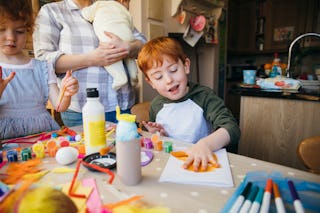 SolStock/E+/Getty Images
Would Mom appreciate a gift certificate to the spa or that leather laptop bag she's been eyeballing for months on Mother's Day? Well, yeah. But the odds are if you ask a bunch of moms how they'd feel about getting a homemade gift on Mother's Day from their kid, most would love it. The same general idea stands for Mother's Day plans. While it's 100% OK (and healthy, even) to want to spend the afternoon away from your kids, you may decide you want to do something with them on "your" holiday. If that aligns with your plans this year, Mother's Day crafts could be the way to go.
And if you need inspiration for last-minute crafting ideas that kids will enjoy creating just as much as Mom — or any child's guardian or caregiver — will enjoy getting, you turn to TikTok. More specifically, you turn to teachers on TikTok. To paraphrase Emily Barrett Browning, How do we love thee, teachers of TikTok? Let us count the ways! But seriously, every parent should follow #TeachersofTikTok. Case in point? These easy, adorable, and inclusive crafts that make an ideal activity for this special holiday.
Whether your goal is to spend some quality time with your kids or help them create something heartfelt for another mother (or guardian) in your lives, Mother's Day crafts make for a sweet holiday activity.