Footage Of Nick The Fairy Godmother's Apprentice Is Causing Conservative Outrage
Nick helps children transform into royalty at the Bibbidi Bobbidi Boutique.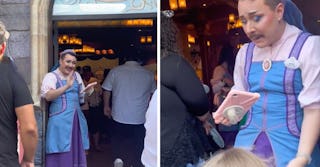 TikTok / @kourtnifaber
Disney Parks and Disney executives have made it clear how they feel about the LGBTQ+ community. So much so that because they decided to be an accepting, affirming, and inclusive organization, the ultra-conservative "woke" warrior and Florida governor, Ron DeSantis had seemingly made it his mission in life to take Disney down.
Before the actual lawsuit of DeSantis vs. Disney began, the family-oriented theme park had already made the decision to change their policy when it came to employees working in the Bibbidi Bobbidi Boutique inside Sleeping Beauty's castle at Disneyland.
In 2022, the Walt Disney Company announced that employees at Bibbidi Bobbidi Boutique will receive the gender-neutral title change from "Fairy Godmothers in Training" to "Fairy Godmother's Apprentices" in an effort to be more inclusive.
One of those very special apprentices made an appearance in a Disney-goers' TikTok, and the video soon went viral.
TikTok user Kourtni (@kourtnifaber) shared a video of her family's recent trip to the Disneyland theme park in Anaheim, California. The clip — which gained more than 10 million views in just five days — shows a park employee named Nick sporting a low voice and facial hair, greeting visitors at the children's boutique, dressed in the usual apprentice skirt, smock, make-up, and hairdo.
"So, my name's Nick. I'm one of the Fairy Godmother's apprentices. I'm here to shop you around and make all your selections for the day," they can be heard telling Kourtni's daughter at the Bibbidi Bobbidi Boutique entrance.
The Bibbidi Bobbidi Boutique welcomes children to transform into a Disney prince or princess by choosing from a selection of costumes, hairstyles, makeup, and accessories. Employees at the Bibbidi Bobbidi Boutique wear uniforms giving homage to the Fairy Godmother's dress from Disney's 1950 animated film, Cinderella.
After the clip, which was meant to showcase a magical and special time for Kourtni and her daughter, went viral, the TikTok was inundated with comments ranging from those who were in awe of how amazing Nick was as an apprentice to some calling for a Disneyland boycott.
"Stop taking your family to Disney," tweeted TV host Sara Gonzales, while Rubin Report host Dave Rubin wrote, "Think how many real girls want that job at Disney and they gave it to him for a reason…"
One user joked, ""I'm more insulted by the prices of the dresses."
While another chimed in and said, "Oh hell no $250 for a dress."
Despite the backlash and bigotry, several other TikTok users commented with their support for the Disneyland employee.
Popular TikTok creator, Elyse Meyers, wrote, "I want Nick to be my fairy godmother."
"Nick seems like an amazing person and one of the best at spreading magic," commented one viewer.
Another user wrote, "I'm so glad Disney now lets [cast members] chose which costumes ("male/female version") they feel most comfortable in :)"
A few TikTok users shared that her child had also had Nick as their apprentice when they visited the Disney attraction.
"Nick is awesome he did my daughters hair and make up. He made her experience awesome and sprinkled lots of fairy dust," they wrote.
"He was the sweetest. My daughter was worried about getting her nails done and he was so good and patient with her," one TikToker echoed.
The backlash to this Disneyland employee just existing in the world and making an honest living comes amidst widespread outrage as retailers like Target include gender-inclusive clothing in their Pride Month collections.
Last week, Target announced in a statement that it would be pulling some Pride merchandise from stores after employees experienced threat and harassment over such items.
"Given these volatile circumstances, we are making adjustments to our plans, including removing items that have been at the center of the most significant confrontational behavior. Our focus now is on moving forward with our continuing commitment to the LGBTQIA+ community and standing with them as we celebrate Pride Month and throughout the year," Target said in their statement.